Est: 1993
Welcome to the Glen Helen National in San Bernardino, CA. This historic race track will serve as the second round of the 2018 Lucas Oil Pro Motocross Championship, sanctioned by AMA Pro Racing.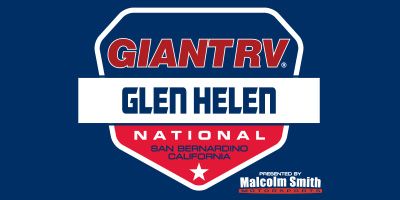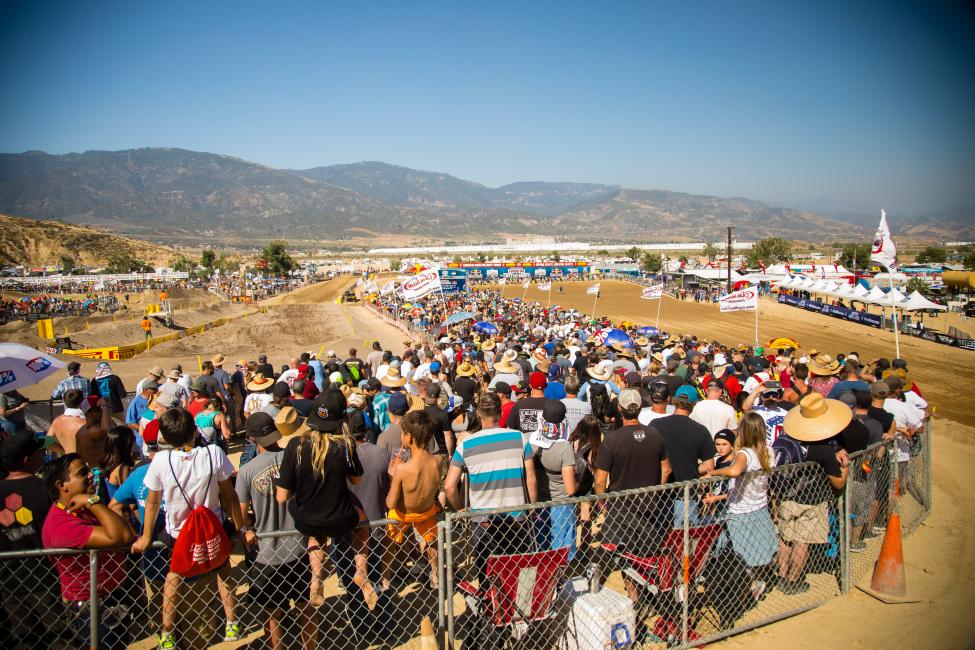 Track Profile
Southern California doesn't just have its own place in motocross—it IS motocross. The roots here are deep, from long-gone tracks that once hosted the biggest events in the sport, to all the riders, teams and sponsors who live in the area. With Glen Helen Raceway serving as the annual SoCal stop in Lucas Oil Pro Motocross, there's pressure to sum up everything from the center of the motocross universe in one big day at the races—and it delivers.
You can sum up that summation with one simple word: big. Glen Helen's track is supersized motocross. The start straightaway is as long and fast as anything you'll see, the Talladega first turn is the widest and steepest in all of the sport, and the up and downhills are so huge they're not even hills, they're mountains!
Southern California was a big part of America's introduction to motocross nearly fifty years ago, and Glen Helen is a great display piece for how far the sport has evolved. Today's riders and bikes can do incredible things, and when unleashed on a massive playground like Glen Helen, there's a full display of not only the upper limits of the sport, but the upper limits of motorsports and athletic competition of any kind. Those hills, those jumps, these speeds…there's pressure on Glen Helen to deliver, but it always comes up big.
Amenities
Free Motorcycle Parking and Gear/Helmet Check
Grandstand seating for 3000
Concessions for food, soft drinksƒ' &ƒ' beer.
Permanent rest-room facilities.
No drones allowed on property
No pit vehicles. We do not allow bikes, quads, scooters golf carts, UTVs, etc.
No pets on Saturday
No glass allowed on property
Rental car entrance is at Rider Services parking lot across from the Main Gate.
Will call is just past the main track entrance on the left.
Spectator parking $10
Be prepared to show credentials at all security checkpoints
No open campfires. Gas and charcoal cooking grills ONLY permitted.
Do not take banners. Banners and event signage are the private property of the promoter. Removal of these items is illegal and punishable by law. You will be prosecuted for theft.
Responsibility. Motocross racing, like all motorsports can be dangerous. When you enter the grounds you assume the risk of injury and/or damage. It is your responsibility to keep yourself and your children. Be aware of their location at all times. Never turn you back to oncoming racers.
General Information
No pets national weekend
No bicycles
Coolers allowed but subject to search
No Glass
No alcochol to be brought in
No ez-ups or tents
No fireworks
Special Events
Thursday, May 24th from 6 pm - 9 pm: Movie at GHR Museum. Special Guest Malcolm Smith, Gene Romero, Gary Jones & more!
Friday, May 25th at 6 pm: Stadiumcross Racing (open to all riders).
Saturday, May 26th at 12:20 pm: MTA 2 Stroke Invitational.
Local Partners
Get Connected
Facebook: @GlenHelenRaceway
Instagram: @GlenHelenRaceway
Twitter: @GlenHelenRacing
Youtube: GlenHelenRaceway
Contact Us
Bud Feldkamp, Principal
Manager: Lori Wilson
(909) 880-3090
[email protected]
Glen Helen National Winners
| | | | |
| --- | --- | --- | --- |
| 450 Class | | | |
| Date | Winner | Hometown | Machine |
| 5/27/17 | Marvin Musqin | La Reole, France | KTM |
| 5/28/16 | Ryan Dungey | Belle Plaine, MN | KTM |
| 5/23/15 | Eli Tomac | Cortez, CO | HON |
| 5/24/14 | Ryan Dungey | Belle Plaine, MN | KTM |
| 5/23/09 | Ryan Villopoto | Poulsbo, WA | KAW |
| 5/25/08 | James Stewart | Haines City, FL | KAW |
| 9/9/07 | Grant Langston | South Africa | YAM |
| 9/10/06 | James Stewart | Haines City, FL | KAW |
| 9/11/05 | Ricky Carmichael | Havana, FL | SUZ |
| 9/12/04 | Ricky Carmichael | Havana, FL | HON |
| 5/11/03 | Ricky Carmichael | Havana, FL | HON |
| 5/12/02 | Ricky Carmichael | Havana, FL | HON |
| 5/13/01 | Tim Ferry | Largo, FL | YAM |
| 5/14/00 | Ricky Carmichael | Havana, FL | KAW |
| 5/9/99 | Sebastien Tortelli | France | HON |
| 5/10/98 | Mickael Pichon | France | SUZ |
| 5/11/97 | Jeff Emig | Kansas City, KS | KAW |
| 5/12/96 | Jeremy McGrath | Menifee, CA | HON |
| 8/1/93 | Mike LaRocco | South Bend, IN | KAW |
| | | | |
| --- | --- | --- | --- |
| 250 Class | | | |
| Date | Winner | Hometown | Machine |
| 5/27/17 | Zach Osborne | Abingdon, VA | HSQ |
| 5/28/16 | Alex Martin | Millville, MN | YAM |
| 5/23/15 | Marvin Musquin | France | KTM |
| 5/24/14 | Jeremy Martin | Millville, MN | YAM |
| 5/23/09 | Ryan Dungey | Belle Plaine, MN | SUZ |
| 5/25/08 | Austin Stroupe | Lincolnton, NC | KAW |
| 9/9/07 | Ben Townley | New Zealand | KAW |
| 9/10/06 | Ryan Villopoto | Poulsbo, WA | KAW |
| 9/11/05 | Grant Langston | South Africa | KAW |
| 9/12/04 | James Stewart | Haines City, FL | KAW |
| 5/11/03 | Mike Brown | Johnson City, TN | KAW |
| 5/12/02 | James Stewart | Haines City, FL | KAW |
| 5/13/01 | Grant Langston | South Africa | KTM |
| 5/14/00 | Stephane Roncada | France | YAM |
| 5/9/99 | Ricky Carmichael | Havana, FL | KAW |
| 5/10/98 | Ricky Carmichael | Havana, FL | KAW |
| 5/11/97 | Ricky Carmichael | Havana, FL | KAW |
| 5/12/96 | Kevin Windham | Baton Rouge, LA | YAM |
| 8/1/93 | Doug Henry | Torrington, CT | HON |