For General Admission tickets and Super Pass opportunities, visit Event links below. For Rider, Race Team and Industry tickets and credentials, visit the CREDENTIAL PROGRAM.
2018 At-The-Gate Fees
| | | | | |
| --- | --- | --- | --- | --- |
| General Admission | Thu-Sun | Fri-Sun | Sat-Sun | Sat Only |
| Adult (12 & Over) | $70 | $65 | $55 | $45 |
| Kids (6-11) | $40 | $35 | $25 | $20 |
| Kids 5 & Under | Free | Free | Free | Free |
Preferred Camping (Thu-Sat Night)
$150
Fan Camping (Thu-Sat Night)
$60
Fan Camping (Fri-Sat Night)
$50
Extra Vehicle Pass (Thu-Sun): One per vehicle required.
Must be accompanied by a Camping Pass holder. Valid for extra cars and non-sleeping vehicle only.
$25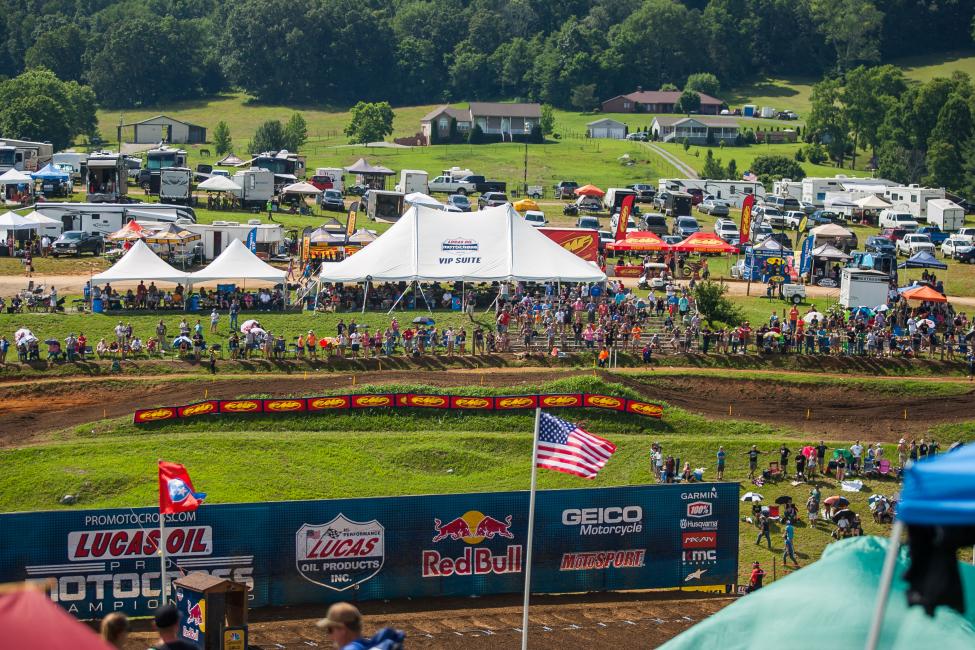 VIP Super Ticket
Valid Admission for Thursday - Sunday
Pro Race Day includes deluxe tent seating
Free Saturday Parking
Full lunch buffet Saturday
Live race broadcast
Pro Pit access Saturday 9am-5pm
Official Event Poster and Souvenir Program to each VIP
Private restroom facilities
Limited quantity available
Cost: $200 Adult (12+) | $100 Kids (6-11)
Bomber Club
Includes admission for Thursday - Sunday
Replacing the Premier Viewing option
Does not include parking fees
Improved location and value
Private viewing area from one of the best and exciting areas of the racetrack
Pro Pit access all weekend including Saturday 9am - 5pm
Cost: $125 Adult (12+) | $100 Kids (6-11)
Racer X Pit Pass
Includes admission Friday - Sunday
Pro Pit access Saturday 9am-5pm
One Year subscription to Racer X Illustrated
Limited quantity available.
Must redeem at Will Call
Cost: $90 Adult (12+) | $75 Kids (6-11)
Will Call
Super Ticket and Holeshot Club ticket holders must pick up their credentials at Will Call, located at the Main Gate. Will Call times: Friday (9 am – 5 pm) and Saturday (7 am – 2 pm).
Gate Hours
| | | | | |
| --- | --- | --- | --- | --- |
| | Thur | Fri | Sat | Sun |
| Open | Noon | 6 am | 6 am | 6 am |
| Close | Midnight | Midnight | Midnight | N/A |
Gates close midnight to 6 am daily. Please plan accordingly.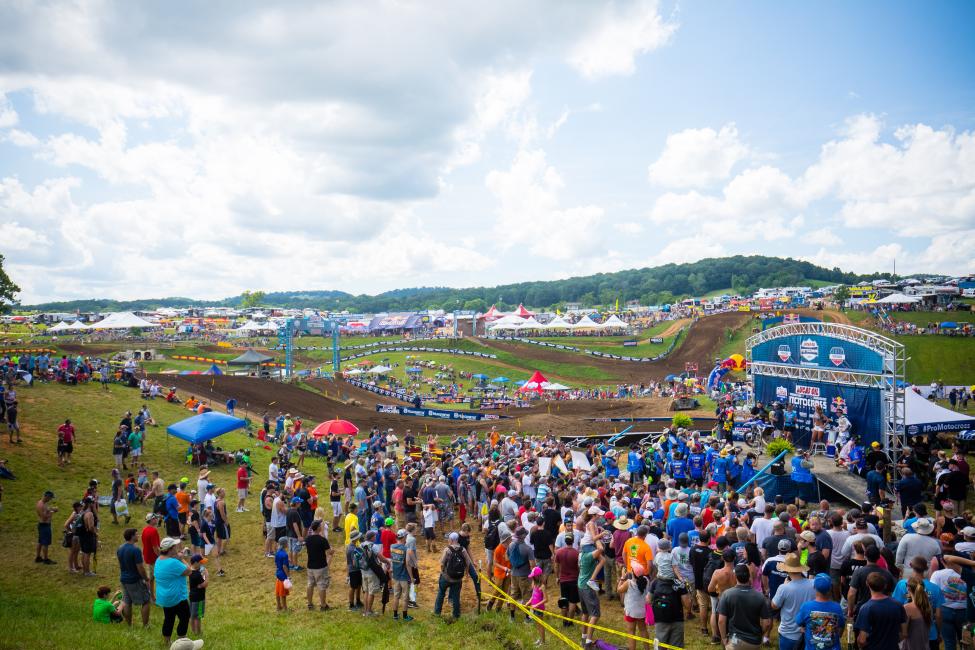 FAQs
Here are some frequently asked questions regarding ticketing. For more information on the Tennessee National including admission, gate times, pit passes, directions and event address, please call our offices at (423) 323-5497
Can I purchase tickets at the event?
Yes, you can always buy General Admission tickets at the gate. VIP Super Tickets, Bomber Club and Racer X All Day Pit Passes are limited and generally sell out in advance.
Do I have to pay for parking?
Yes. On Saturday there is $10 Fan Parking fee per vehicle.
What age are the child tickets?
Kids tickets are for ages 6-11.
Do the little ones get in free?
Yes, children age 5 and under get in free.
I am wondering what Bomber Club tickets get me? What does it all include?
Other than the Super Pass VIP Ticket, the Bomber Club is the best ticket available! The $125 Bomber Club tickets will include admission Thursday-Sunday, private viewing area from one of the best and exciting areas of the racetrack, plus Pro Pit access all weekend including all day Saturday 9am-5pm.
I just purchased 2 Adult and 2 Child Super Tickets. The tickets I printed are all in my name, does that matter? Should I edit the tickets and type in the contact info and re-print for all attendees?
You do not need to change any information on the tickets. All of your tickets will work at the gate and attendees do not need to be together to enter. All attendees must sign a release form before entering.
Where can I purchase a Pit Pass?
There are two types of Pit Passes available to you: the Racer X All Day Pit Pass and the Early Entry Pit Pass. You can purchase Racer X Pit Passes online in advance as they generally sell out. Early Entry pit passes are sold online in advance, as well as on-site at the event. Racer X Pit Passes are good for all day Pro Pit access while Early Entry Pit Passes are only valid on Saturday from 9am until noon. There is limited availability on both types of Pit Passes and they may sell out.
Will the Racer X Pit Pass get me into the event?
Yes, you must redeem your Racer X Pit Pass at Will Call. You will receive a wristband that is good for gate admission and pro pit access from 9am-5pm.
Will the Early Entry Pit Pass get me into the event?
No, you must purchase a General Admission ticket online or at the event for the day you arrive.
I purchased multiple Racer X Pit Passes online. Can I pick them up for family or friends if they're not with me at the booth?
No. Everyone using a Racer X Pit Pass must be present at Will Call in order to obtain his or her own wristband. A staff member will put on each person's wristband after a release form has been signed (if the recipient is under 18, Minor Release Form will have to be filled out by an adult).
Are we allowed to bring an ice cooler with food and drinks?
Yes, you are allowed to bring in a cooler and you may bring in alcohol. However, NO GLASS BOTTLES ALLOWED. NO ALCOHOL ALLOWED IN THE PRO PITS.
Can we bring chairs? Can we set up a tent or EZ up?
Yes, you can bring chairs. You can bring a tent but there will be a designated area for tents or EZ-ups as they impede viewing for other fans. We do not allow tents or EZ-ups within 40' of the track fence in order to keep an open view of the track for fans.
Can my dog come to the races?
Dogs are allowed National weekend at the track with CAMPING FANS ONLY. Dogs must stay on a leash Friday and Sunday, but must stay at your CAMPER ON SATURDAY. For safety reasons, we do not allow dogs in the pro paddock, Sponsor Village or in fan viewing areas on pro race day Saturday.
My printer broke. Can I use my smart phone to get in?
Yes, but we urge fans to always print out their tickets and bring them to the event. Your phone may not work depending on cellular reception, so always be safe and print ahead of time.
What is the difference between Fan Camping and Preferred Camping?
Preferred Camping is generally located much closer to the track and tends to have more families.
Is camping based on reservations or first-come basis?
In order to get all of the campers parked in a safe and orderly fashion, camping is first-come.
Are there electric or water hook ups for RVs?
No. All camping is primitive.
If we elect to camp, what time do we need to be out of the camping spot on Sunday?
Following the amateur racing program at dusk on Sunday.
Any other questions or needs can be directed to [email protected]
Handicap or Special Needs requests can be directed to [email protected]
Pro Pit Rules
Alcohol is PROHIBITED in the Pro Pits.
Children must be accompanied by an adult pass-holder.
You may not access the track at any time.
There will be scheduled autograph sessions at various team rigs. Autographs are only available as scheduled. Autographs are not guaranteed. Purchase of a Pit Pass does not guarantee that you will obtain a pro autograph.
Anyone removing or taking an item from a team rig or pit area without permission will be prosecuted.
Entry to the Pro Pits is at your own risk. You are responsible for your own safety.