MX Sports Pro Racing and FMF have teamed up with the 125 Dream Race to bring 125cc 2-Stroke racing back to three Lucas Oil Pro Motocross Nationals in 2017! Hangtown, Thunder Valley and Washougal will host rounds for the 2017 FMF 125 Dream Race Invitational Triple Crown.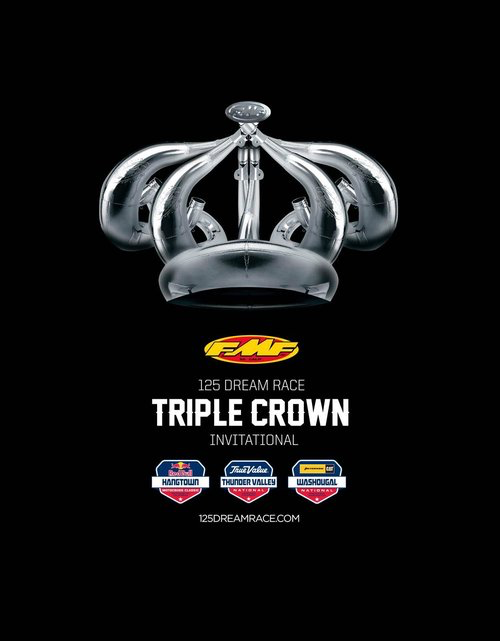 This is an invitational event. Past champions, current and former pro racers, local "A" riders, and industry icons will all line the gate, competing for a spot on the podium and a chance to bring home a custom FMF trophy.
Program Features:
Machine Eligibility: 125cc-150cc 2-Stroke
Rider Eligibility: 16+ years of age and minimum "A" classification
AMA Membership required
Entry Fee: $0
Class: Limited to 40 riders – no qualifiers
Race Format: 1 practice/1 moto format on National Day
Moto will be immediately before Opening Ceremonies
Awards: Custom FMF Trophy to Top 3/event (This is not a purse-paying event)
To request an invitation to participate, or for more information, email Series Administrator, Joey Lancaster at [email protected].
Visit 125DreamRace.com for more information. Follow @fmf125dreamrace and use the hashtag #125DreamRace all season long!
Round 1 - Hangtown Results
Pos.
Name
Number
Brand
1
Robbie Wageman
141
YAM
2
Josh Hansen
100
HUS
3
Topher Ingalls
13
HON
4
Michael Sleeter
111
KTM
5
Dare Demartile
207
SUZ
6
Lane Shaw
986
YAM
7
Dennis Stapleton
184
KTM
8
Ty Termaine
14
HUS
9
Chris Plouffe
23
YAM
10
Cobe Lehnertz
144
TM
11
Jarid Blevins
331
KTM
12
Devin Watson
777
KTM
13
Austin Politelli
11
YAM
14
Chad Heishman
215
KTM
15
Corey Pennington
160
HUS
16
Brian Medeiros
139
YAM
17
Justin Muscutt
74
KTM
18
Rory Sullivan
272
YAM
19
Jeff Gorman
821
HON
20
AJ Gilbert
156
HON
21
Ikua Hughes
543
HON
22
Jake Osborne
86
YAM
23
Daniel Hamilton
281
HON
24
James Hamilton
454
HON
25
Tanner Berry
36
KTM
26
Todd Pratt
515
KTM
27
Tyler Moore
57
HON
28
David Blew
309
HON
29
Andy Dibrino
62
HON
30
Devin Bolin
234
KTM
31
James Hanson
296
HUS
32
Cole Moore
27
KTM
33
Russ Robbins
503
YAM
34
Daniel Barrett
331x
KTM
35
Tyler Edmondson
141x
HON
36
Vince Weiner
412
KTM
37
Sean Ekerson
444
HON
DNS
Rick Kramer
455
DNS
Ryan Eager
373
DNS
Talon Gorman
618
HON
Round 2 - Thunder Valley Results
Pos.
Name
Number
Brand
1
Ryan Sipes
97
HSQ
2
Tyler Livesay
254
KTM
3
Michael Sweney
41
KTM
4
Jake Bork
215
YAM
5
Devin Watson
777
KTM
6
Lane Shaw
986
YAM
7
Derek Anderson
241
HON
8
Bobby Fitch
124
KAW
9
Bryce Shondeck
198
YAM
10
Trae Dilley
919
YAM
11
Jet Underwood
100
YAM
12
Chase Stevenson
746
KTM
13
Rory Sullivan
272
YAM
14
James Hamilton
454
HON
15
Tucker Saye
693
SUZ
16
AJ Gilbert
156
HON
17
Todd Pratt
515
KTM
18
Doug Levitt
960
HON
19
Brad Haskell
76
YAM
20
Tyler Valentine
123
YAM
21
Brett Stralo
225
YAM
22
Corey Wilcox
31
YAM
23
Devin Brassfield
226
KTM
24
Steve Martin
12
KAW
25
Travis Newbold
39
HON
26
Tristan Callahan
45
KTM
27
Chaz Braden
336
YAM
28
Ryan Fetzer
34
KTM
29
James Hanson
296
HSQ
30
Aaron Hart
700
RM
31
Lauren Volentir
61
KAW
32
Tyler Edmondson
141
HON
33
Daniel Barrett
331
KTM
DNF
Joel Ard
216
HON
DNF
Chad Ruggles
445
YAM
DNS
Dane Rouse
125
HON
DNS
Devon Sellars
201
KTM
DNS
Thomas Kapaun
DNS
Redmond Bohannon