Casey Huntley
How to Watch: Red Bull RedBud National
Time
Thursday, July 5, 2018 | 3:55 PM
With the 2018 Lucas Oil Pro Motocross Championship halfway over, the series heads to Michigan this weekend for its traditional Independence Day Weekend stop at RedBud.
Whether you prefer to watch online or through your television, here's a rundown on how to see all the action.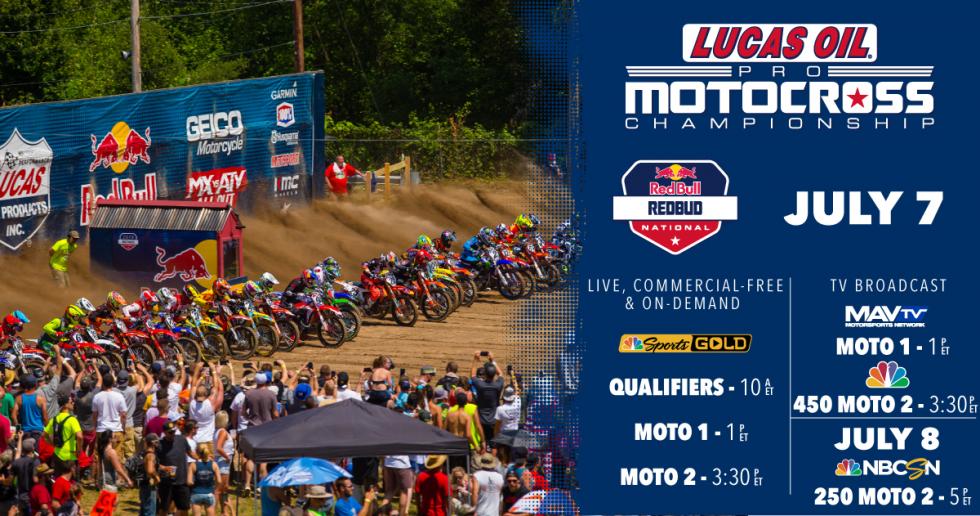 NBC SPORTS GOLD
Saturday, July 7
Qualifiers | 10:10 – 11 a.m. ET
All Motos | 1 – 5:30 p.m. ET
For the second straight season, NBC Sports Gold will provide the live streaming for all 12 rounds of the Lucas Oil Pro Motocross Championship. Every single moto can be seen live and commercial-free for subscribers who purchase the Pro Motocross Pass, and each race will be available on-demand for subscribers to watch later.
Exclusive to NBC Sports Gold will be live coverage of qualifiers — specifically, the second practice sessions for the 450 A and 250 A groups — at each round.
NBC Sports Gold is available to residents of the following countries: the United States, the United Kingdom, Germany, Sweden, Canada, Ireland, Denmark, Switzerland, the Netherlands, Austria, Spain, Italy, Luxembourg and Japan.
TELEVISION
For American fans, television coverage of all 12 rounds can be found on MAVTV and the networks of NBC. As always, MAVTV will show the first motos in each class live. This week NBC will have live coverage of the second 450 moto (note the unique 3:30 p.m. ET start time), while NBCSN will have next-day coverage of the second 250 moto.
The U.S. television schedule for RedBud is below.
Saturday, July 7
Moto 1 | 1 – 3 p.m. ET | MAVTV | LIVE
450 Moto 2 | 3:30 – 4:30 p.m. ET | NBC | LIVE
Sunday, July 8
250 Moto 2 | 5 – 6 p.m. ET | NBCSN
Friday, July 13
Highlight Show | 2 – 3 a.m. ET | NBCSN
For fans outside the U.S. who don't have access to NBC Sports Gold, the Nationals will be simulcast to various countries across the globe. Check your local TV listings for the time and network in your area.
For information about the Lucas Oil Pro Motocross Championship, please visit ProMotocross.com and be sure to follow all of the Pro Motocross social media channels for exclusive content and additional information on the latest news: