Est: 1974
Welcome to the beloved and legendary RedBud National in Buchanan, MI. This legendary race marks Round 7 of the 2020 Lucas Oil Pro Motocross Championship, sanctioned by AMA Pro Racing.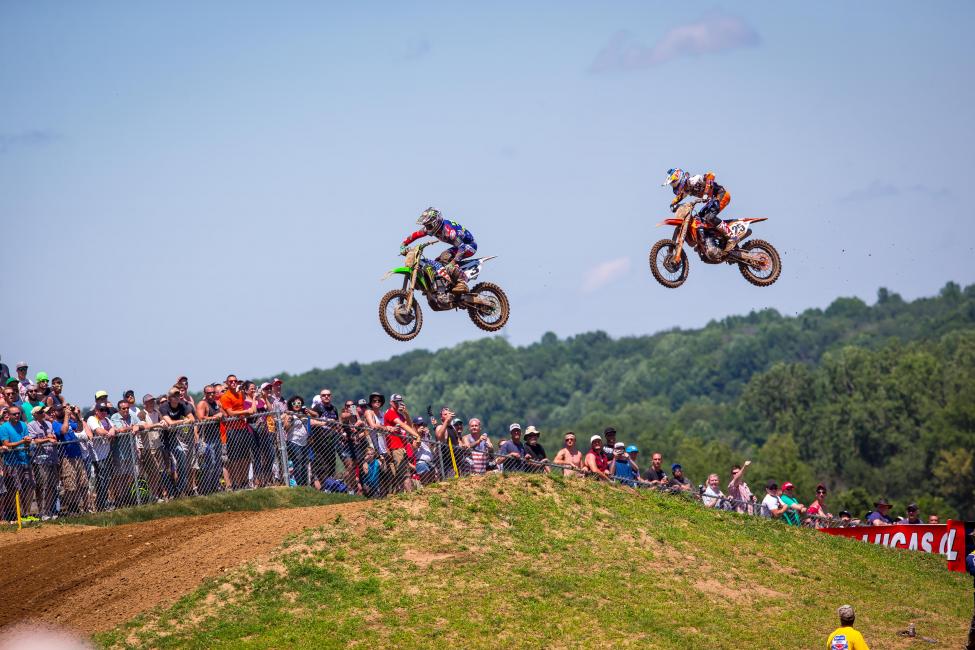 Track Profile
Buchanan, Michigan's RedBud is the centerpiece of the Lucas Oil AMA Pro Motocross Championship. Located just above the Michigan-Indiana state line, RedBud is among the most highly regarded motocross tracks in the world, and every July Fourth weekend becomes one the region's biggest events in general. Located in the beautiful rolling hills of southwestern Michigan - a state with an affinity for off-road recreational vehicle use - RedBud has bragging rights to claim the largest attendance of any U.S. motocross race, year after year. With just the right soil mix, plenty of room for passing, and the biggest jump on the circuit - the infamous LaRocco's Leap, named after local legend Mike LaRocco - RedBud is the top motocross destination in a region that loves its motorsports. And the loyal Michigan fans' chants of "Red Buuuuud!!!" are well-known throughout the motocross world.
One winter nearly forty years ago, Valparaiso, Indiana's Gene Ritchie took a trip to Buchanan for a snowmobile race. He rode around the property, imagining that a great motocross track could be carved into the hills and fields.ƒ' When that property came up for sale in 1972, Ritchie pursued his dream of creating a national-caliber motocross track. He and his wife, Nancy, found some willing partners and purchased the property.ƒ' The Ritchies, the Pattersons, and the Millersƒ' built their dream track and began holding races in 1973.
RedBud held its first AMA Motocross National in 1974, and it was won by another local motocross star, Hadley, Michigan's Mike Hartwig. The facility also hosted Trans-AMA races each fall, often featuring battles between the world's best rider at the time, Roger DeCoster, and America's best, Bob "Hurricane" Hannah.
Within a few years, the original partners moved on and the Ritchie family relocated to Michigan to become full-time motocross promoters.ƒ' Gene opened a bike shop, Red Bud Cycle, selling Bultacos and Maicos near the track entrance. The shop mechanic, a local teenage MX racer, became the centerpiece of the Friday night MX intermission shows; that teen was the late "Wheelie King", Doug Domokos, who went on to set world records and wow fans around the globe with his wheelie shows and spectacular stunts.
Other stars emerged from the RedBud amateur races, too, most notably Mark "The Bomber" Barnett from nearby Bridgeview, Illinois, Michigan's five-time Women's National Champ Lisa (Akin) Wagner (now on staff at RedBud), six-time AMA MX and SX Champ Jeff Stanton, and of course, today "The Rock," Mike LaRocco.
Amenities
Free Motorcycle Parking and Gear/Helmet Check
Grandstand Seating
Covered VIP Viewing Areas with live PA feed, live timing and scoring, live race footage, private restrooms, and catering
Open Air Festival Seating
Infield Track Viewing via Track Tunnels (5 locations)
Handicap viewing area
Shaded Picnic Areas
Onsite Parking
Motorcycle Parking
Handicap Parking
Two Saturday Entrances
Large Interactive Sponsor Village
Event Simulcast on FM Radio
Food and Soft Drink Concessions
Air Conditioned/Flushing Restroom facilities
Baby Changing Station
Onsite Camping
General Information
Small, friendly pets are permitted in the family camping area in air conditioned RVs only. Pets must stay in the RV and may not leave campsite. No pets permitted in tent camping sites or in day parking lots.
Gates closed Midnight to 6am daily - please plan accordingly.
Thursday practice on pro track
Friday racing on pro track
Friday night racing on night track
Saturday night racing on night track
Sunday racing on the full pro course
No drones allowed on property
No pit vehicles. We do not allow bikes, quads, scooters golf carts, UTVs, etc.
No pets on Saturday
No glass allowed on property
Rental car entrance is located at Pro Gate D. Rental Car Lot is adjacent to Paddock back gate.
Will call located at Pro Gate D/Main Street.
Daily Parking Fee
Be prepared to show credentials at all security checkpoints
No open campfires. Gas and charcoal cooking grills ONLY permitted.
Do not take banners. Banners and event signage are the private property of the promoter. Removal of these items is illegal and punishable by law. You will be prosecuted for theft.
Responsibility. Motocross racing, like all motorsports can be dangerous. When you enter the grounds you assume the risk of injury and/or damage. It is your responsibility to keep yourself and your children. Be aware of their location at all times. Never turn you back to oncoming racers.
World Class Fireworks Show Friday and Saturday Nights
RV septic tank pump truck services the spectator and pit camping areas throughout the weekend.
Water fill service available for RVs and barrels.
Flush restroom trailers are available during the day and closed overnight.
Special Information
2019 Special Events will be posted at a later date.
Local Partners
Contact Us
RedBud Recreation
Phone: 269-695-6405
Website: www.redbudmx.com
RedBud National Winners
| | | | |
| --- | --- | --- | --- |
| 450 Class | | | |
| Date | Winner | Hometown | Machine |
| 7/7/18 | Marvin Musquin | La Reole, France | KTM |
| 7/1/17 | Eli Tomac | Cortez, CO | KAW |
| 7/2/16 | Ken Roczen | Germany | SUZ |
| 7/4/15 | Justin Barcia | Monroe, NY | YAM |
| 7/5/14 | Ken Roczen | Germany | KTM |
| 7/6/13 | Ryan Villopoto | Poulsbo, WA | KAW |
| 7/7/12 | Ryan Dungey | Belle Plaine, MN | KTM |
| 7/2/11 | Chad Reed | Australia | HON |
| 7/3/10 | Ryan Dungey | Belle Plaine, MN | SUZ |
| 7/4/09 | Josh Grant | Riverside, CA | YAM |
| 7/6/08 | James Stewart | Haines City, FL | KAW |
| 7/1/07 | Ricky Carmichael | Havana, FL | SUZ |
| 7/2/06 | Ricky Carmichael | Havana, FL | SUZ |
| 7/3/05 | Ricky Carmichael | Havana, FL | SUZ |
| 7/4/04 | Ricky Carmichael | Havana, FL | HON |
| 7/6/03 | Ricky Carmichael | Havana, FL | HON |
| 7/7/02 | Ricky Carmichael | Havana, FL | HON |
| 7/1/01 | Ricky Carmichael | Havana, FL | KAW |
| 7/2/00 | Sebastien Tortelli | France | HON |
| 7/4/99 | Kevin Windham | Baton Rouge, LA | HON |
| 7/5/98 | Jeff Emig | Kansas City, KS | KAW |
| 7/6/97 | John Dowd | Chicopee, MA | YAM |
| 7/7/96 | Jeff Emig | Kansas City, KS | KAW |
| 7/2/95 | Jeremy McGrath | Menifee, CA | HON |
| 7/3/94 | Mike Kiedrowski | Canyon Country, CA | KAW |
| 7/4/93 | Mike Kiedrowski | Canyon Country, CA | KAW |
| 7/5/92 | Mike Kiedrowski | Canyon Country, CA | KAW |
| 7/7/91 | Damon Bradshaw | Mooresville, NC | YAM |
| 7/8/90 | Jeff Ward | San Juan Capistrano, CA | KAW |
| 7/2/89 | Jeff Stanton | Sherwood, MI | HON |
| 7/7/85 | Rick Johnson | El Cajon, CA | HON |
| 7/1/84 | Rick Johnson | El Cajon, CA | YAM |
| 7/3/83 | David Bailey | Axton, VA | HON |
| 6/1/80 | Steve Wise | Pharr, TX | HON |
| 7/1/79 | Marty Tripes | Santee, TX | HON |
| 7/2/78 | Kent Howerton | San Antonio, TX | SUZ |
| 5/22/77 | Tony DiStefano | Morrisville, PA | SUZ |
| 4/28/74 | Ken Zahrt | Woodland Hills, CA | Bultaco |
| | | | |
| --- | --- | --- | --- |
| 250 Class | | | |
| Date | Winner | Hometown | Machine |
| 7/7/18 | Aaron Plessinger | Hamilton, OH | YAM |
| 7/1/17 | Zach Osborne | Abingdon, VA | HQV |
| 7/2/16 | Cooper Webb | Morehead City, NC | YAM |
| 7/4/15 | Jeremy Martin | Millville, MN | YAM |
| 7/5/14 | Jeremy Martin | Millville, MN | YAM |
| 7/6/13 | Ken Roczen | Germany | KTM |
| 7/7/12 | Blake Baggett | Grand Terrace, CA | KAW |
| 7/2/11 | Blake Baggett | Grand Terrace, CA | KAW |
| 7/3/10 | Trey Canard | Shawnee, OK | HON |
| 7/4/09 | Jake Weimer | Rupert, ID | KAW |
| 7/6/08 | Ryan Villopoto | Poulsbo, WA | KAW |
| 7/1/07 | Ryan Villopoto | Poulsbo, WA | KAW |
| 7/2/06 | Ryan Villopoto | Poulsbo, WA | KAW |
| 7/3/05 | Grant Langston | South Africa | KAW |
| 7/4/04 | Michael Brown | Johnson City, TN | YAM |
| 7/6/03 | James Stewart | Haines City, FL | KAW |
| 7/7/02 | James Stewart | Haines City, FL | KAW |
| 7/1/01 | Larry Ward | Florence, SD | YAM |
| 7/2/00 | Stephane Roncada | France | YAM |
| 7/4/99 | Ricky Carmichael | Havana, FL | KAW |
| 7/5/98 | Ricky Carmichael | Havana, FL | KAW |
| 7/6/97 | Kevin Windham | Baton Rouge, LA | YAM |
| 7/7/96 | Steve Lamson | Pollock Pines, CA | HON |
| 7/2/95 | Steve Lamson | Pollock Pines, CA | HON |
| 7/3/94 | Jeff Emig | Kansas City, KS | YAM |
| 7/4/93 | Jeff Emig | Kansas City, KS | YAM |
| 7/5/92 | Jeff Emig | Kansas City, KS | YAM |
| 7/7/91 | Mike Kiedrowski | Canyon Country, CA | KAW |
| 7/8/90 | Guy Cooper | Stillwater, OK | SUZ |
| 7/2/89 | George Holland | Kerman, CA | HON |
| 7/3/88 | Guy Cooper | Stillwater, OK | HON |
| 7/5/87 | Micky Dymond | Yorba Linda, CA | HON |
| 7/6/86 | Micky Dymond | Yorba Linda, CA | HON |
| 7/7/85 | Ron Lechien | El Cajon, CA | HON |
| 7/1/84 | Jeff Ward | San Juan Capistrano, CA | KAW |
| 7/3/83 | Johnny O'Mara | Simi Valley, CA | HON |
| 7/4/82 | Mark Barnett | Bridgeview, IL | SUZ |
| 7/5/81 | Mark Barnett | Bridgeview, IL | SUZ |
| 5/23/76 | Bob Hannah | Whittier, CA | YAM |
| | | | |
| --- | --- | --- | --- |
| 500cc Motocross | | | |
| Date | Winner | Hometown | Machine |
| 7/3/88 | Jeff Ward | San Juan Capistrano, CA | KAW |
| 7/5/87 | Rick Johnson | El Cajon, CA | HON |
| 7/6/86 | Rick Johnson | El Cajon, CA | HON |
| 7/7/85 | Broc Glover | El Cajon, CA | YAM |
| 7/1/84 | David Bailey | Axton, VA | HON |
| 7/3/83 | Broc Glover | El Cajon, CA | YAM |
| 7/4/82 | Danny Chandler | Foresthill, CA | HON |
| 7/5/81 | Chuck Sun | Sherwood, OR | HON |
| 6/1/80 | Denny Swartz | Marietta, OH | Maico |
| 7/1/79 | Danny LaPorte | Yucca Valley, CA | SUZ |
| 7/2/78 | Rick Burgett | Sandy, OR | YAM |
| 4/28/74 | Mike Hartwig | Hadley, MI | YAM |