Est: 1974
Welcome to the 50th Annual Hangtown Motocross Classic in Sacramento, CA. This legendary race returns to serve as the opening round of the 2018 Lucas Oil Pro Motocross Championship, sanctioned by AMA Pro Racing.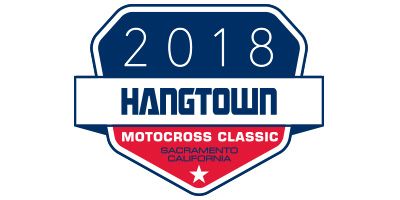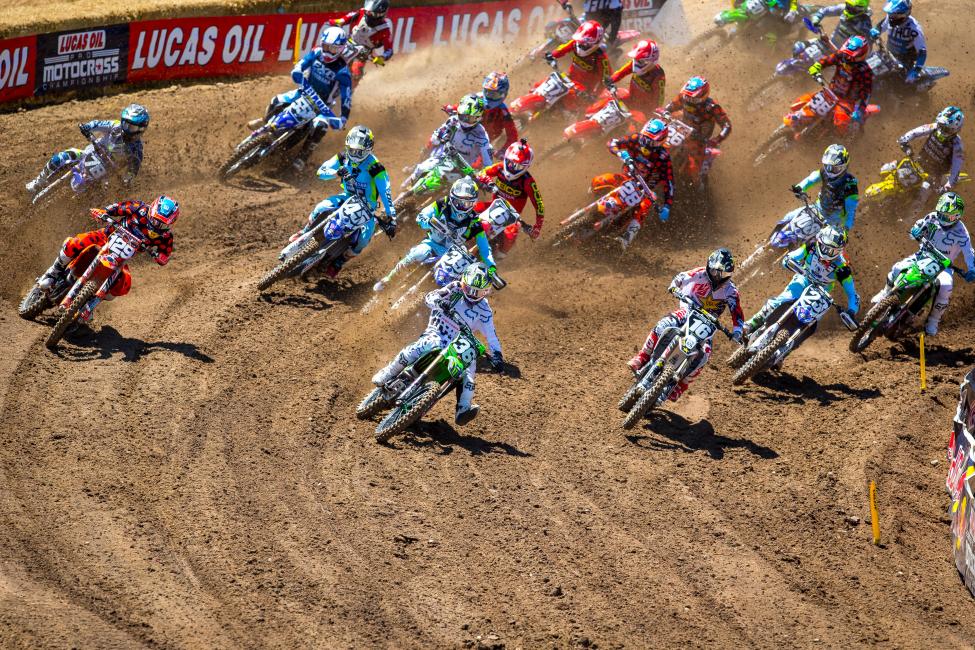 Track Profile
Founded in March 1968, the Dirt Diggers North Motorcycle Club (DDNMC) embarked on a plan to present a motocross competition that would bring top riders to Northern California. As a result, the Hangtown Motocross Classic was born.
The story actually starts in 1967, when a group of local motorcycle enthusiasts met at Marion Pyle's bike shop, the Orangevale Motorcycle Center. They hoped to bring big-time motorcycle racing to the area, and that meeting set the stage for the creation of the DDNMC. From the beginning, the founders-Ed Clark, Carl Cranke, Dave Duarte, Don Fallon, Don Fischer, Bill Groom, Kurt McKimmy, Gene Nunes, Ray Nelson, Bill Onga, Joe Pyle, and Roy Tillus-wanted to stage their own race, and a big one at that!
The first DDNMC race was held at Murray's Ranch outside of Placerville in 1969. The race took its name from the Gold Rush days, when Placerville was known as "Hangtown." With a turnout of about 150 sportsman riders and 30 pros, the event (with its $600 pro purse) set the stage for Hangtown's future. The day ended with Larry Mulock, Gary Bailey, and Dick Mann sharing the winner's podium.
DDNMC has hosted some of the wildest and most successful motorcycle events since the world of motocross came into being. However, the old days at the Placerville sand pit are now long gone, as are the hangovers and all-night parties. Also gone are "Bad" Brad Lackey hopping on the bulldozer to help build the track, the Saturday-night mechanics' races with 250cc Bultaco motors stuffed into minibike frames, and more of the good old days.
All this changed when the race outgrew the sleepy hillsides of Placerville, with its two-lane roads and the old-fashioned thinking of some local residents who didn't like the changes brought by the races (or their thousands of spectators). So in 1979, the Club and the Sacramento County Department of Parks and Recreation put together a permanent facility at the Prairie City OHV Park in Rancho Cordova, near Sacramento. Eventually, the State OHV Department took control of the park and, in conjunction with DDNMC, has provided permanent sprinklers, fencing, restrooms, running water, gazebos, a state-of-the-art announcing tower, and other facilities.
While Hangtown predates the Lucas Oil AMA Pro Motocross Championship, a national series was the dream of the founders more than 40 years ago. The DDNMC is proud to own and produce the longest-running motocross national of all, the Hangtown Motocross Classic.
Today, the Hangtown Motocross Classic is big business. Almost three dozen members meet three to four times a month to prepare for the following year's race. Even though the club is comprised of volunteers, the members commit to full-time work assignments to get their jobs done. In addition to the weekly meetings, required rides, and individual work assignments, DDNMC members commit to a three-week period in May to take the Prairie City track from its normal state to one fit for an AMA Pro Motocross National. The club takes "possession" of the track in early May and brings together hundreds of thousands of dollars worth of equipment to transform the track. The result is the continuation of a classic - the Hangtown Motocross Classic - at the only event on the schedule still run by a motorcycle club.
DDNMC managingƒ' members include: Bob Messer, Hangtown Director; Mark Hilton, Hangtown Track Director; Jeff Kreklberg, Outside Hangtown Director; Billy Hilton, President; Ed Santin, Competition Director.
Amenities
Open Air Festival Seating
Covered Handicap Viewing Area
Covered Super Ticket Seating with live timing and scoring, private restrooms and catering available
Covered VIP Viewing Area
Open Air and Covered Corporate Suites
Air Conditioned Suites
Shaded Picnic Areas
Nearly 100% track viewing from a variety of vantage points
Interactive Sponsor Village
Event Simulcast on FM Radio
Food and Soft Drink Concessions
Beer Concessions
Children's play area
Flushing Restroom facilities
Permanent Restroom facilities
Baby Changing Station
Onsite Parking
Motorcycle Parking
Handicap Parking
Easy entry/Exit
Onsite Camping
RV spots
Potable water for Camper filling
RV septic pump service
Free Motorcycle Parking and Gear/Helmet Check
General Information
No drones allowed on property
No pit vehicles. We do not allow bikes, quads, scooters golf carts, UTVs, etc.
No pets on Saturday
No glass allowed on property
Rental car parking located outside of main pit gate.
Will call is at the main park entrance on the left.
Spectator parking $10
Be prepared to show credentials at all security checkpoints
No open campfires. Gas and charcoal cooking grills ONLY permitted.
Do not take banners. Banners and event signage are the private property of the promoter. Removal of these items is illegal and punishable by law. You will be prosecuted for theft.
Responsibility. Motocross racing, like all motorsports can be dangerous. When you enter the grounds you assume the risk of injury and/or damage. It is your responsibility to keep yourself and your children. Be aware of their location at all times. Never turn you back to oncoming racers.
Special Events
2018 Special Events will be announced at a later date.
Local Partners
Get Connected
Facebook: @dirtdiggersnorth
Instagram: @hangtownmx
Contact Us
Dirt Diggers North Motorcycle Club
Bob Messer (530) 320-1566
[email protected]
Hangtown Motocross Classic Winners
450 Class
Date
Winner
Hometown
Machine
5/20/17
Eli Tomac
Cortez, CO
KAW
5/21/16
Ken Roczen
Germany
SUZ
5/16/15
Eli Tomac
Cortez, CO
HON
5/31/14
Ken Roczen
Germany
KTM
5/18/13
Ryan Villopoto
Poulsbo, WA
KAW
5/19/12
James Stewart
Haines City, FL
SUZ
5/21/11
Chad Reed
Australia
HON
5/22/10
Chad Reed
Australia
KAW
5/30/09
Mike Alessi
Victorville, CA
SUZ
6/1/08
James Stewart
Haines City, FL
KAW
5/20/07
Ricky Carmichael
Havana, FL
SUZ
5/21/06
James Stewart
Haines City, FL
KAW
5/22/05
Ricky Carmichael
Havana, FL
SUZ
5/16/04
Ricky Carmichael
Havana, FL
HON
5/18/03
Ricky Carmichael
Havana, FL
HON
5/19/02
Ricky Carmichael
Havana, FL
HON
5/20/01
Sebastien Tortelli
France
HON
5/21/00
David Vuillemin
France
YAM
5/16/99
Kevin Windham
Baton Rouge, LA
HON
5/17/98
Jeremy McGrath
Menifee, CA
YAM
5/4/97
Greg Albertyn
South Africa
SUZ
5/5/96
Jeremy McGrath
Menifee, CA
HON
5/7/95
Mike Kiedrowski
Canyon Country, CA
KAW
5/1/94
Mike Kiedrowski
Canyon Country, CA
KAW
6/20/93
Mike Kiedrowski
Canyon Country, CA
KAW
6/14/92
Damon Bradshaw
Mooresville, NC
YAM
3/24/91
John Dowd
Chicopee, MA
HON
4/1/90
Jeff Ward
San Juan Capistrano, CA
KAW
4/23/89
Jeff Stanton
Sherwood, MI
HON
3/27/88
Rick Johnson
El Cajon, CA
HON
3/22/87
Rick Johnson
El Cajon, CA
HON
4/6/86
Rick Johnson
El Cajon, CA
HON
3/31/85
Jeff Ward
San Juan Capistrano, CA
KAW
4/8/84
Alan King
Troy, MI
HON
3/27/83
Bob Hannah
Whittier, CA
HON
3/28/82
Rick Johnson
El Cajon, CA
YAM
3/29/81
Kent Howerton
San Antonio, TX
SUZ
3/23/80
Kent Howerton
San Antonio, TX
SUZ
3/25/79
Bob Hannah
Whittier, CA
YAM
4/9/78
Bob Hannah
Whittier, CA
YAM
4/10/77
Marty Smith
San Diego, CA
HON
4/4/76
Jim Ellis
East Hampton, CT
CAN
4/6/75
Kent Howerton
San Antonio, TX
HSQ
4/8/74
Bill Grossi
Santa Cruz, CA
HON
250 Class
Date
Winner
Hometown
Machine
5/20/17
Zach Osborne
Abingdon, VA
HSQ
5/21/16
Joey Savatgy
Thomasville, GA
KAW
5/16/15
Jeremy Martin
Millville, MN
YAM
5/31/14
Jeremy Martin
Millville, MN
YAM
5/18/13
Ken Roczen
Germany
KTM
5/19/12
Blake Baggett
Grand Terrace, CA
KAW
5/21/11
Blake Baggett
Grand Terrace, CA
KAW
5/22/10
Eli Tomac
Cortez, CO
HON
5/30/09
Christophe Pourcel
France
KAW
6/1/08
Ryan Villopoto
Poulsbo, WA
KAW
5/20/07
Ben Townley
New Zealand
KAW
5/21/06
Mike Alessi
Victorville, CA
KTM
5/22/05
Grant Langston
South Africa
KAW
5/16/04
James Stewart
Haines City, FL
KAW
5/18/03
Ryan Hughes
Temecula, CA
KTM
5/19/02
James Stewart
Haines City, FL
KAW
5/20/01
Grant Langston
South Africa
KTM
5/21/00
Steve Lamson
Pollock Pines, CA
HON
5/16/99
Ricky Carmichael
Havana, FL
KAW
5/17/98
Steve Lamson
Pollock Pines, CA
HON
5/4/97
Ricky Carmichael
Havana, FL
KAW
5/5/96
Steve Lamson
Pollock Pines, CA
HON
5/7/95
Ryan Hughes
Escondido, CA
KAW
5/1/94
Damon Huffman
Saugus, CA
SUZ
6/20/93
Jeremy McGrath
Menifee, CA
HON
6/14/92
Steve Lamson
Pollock Pines, CA
HON
3/24/91
Doug Henry
Oxford, CT
YAM
4/1/90
Guy Cooper
Stillwater, OK
SUZ
4/23/89
Damon Bradshaw
Mooresville, NC
YAM
3/28/88
Guy Cooper
Stillwater, OK
SUZ
3/22/87
George Holland
Kerman, CA
SUZ
4/6/86
Erik Kehoe
Granada Hills, CA
SUZ
3/31/85
Ron Lechien
El Cajon, CA
HON
4/8/84
Jeff Ward
San Juan Capistrano, CA
KAW
3/27/83
Mark Barnett
Bridgeview, IL
SUZ
3/28/82
Mark Barnett
Bridgeview, IL
SUZ
3/29/81
Mark Barnett
Bridgeview, IL
SUZ
3/23/80
Mark Barnett
Bridgeview, IL
SUZ
3/25/79
Brian Myerscough
Calimesa, CA
SUZ
4/9/78
Broc Glover
El Cajon, CA
YAM
4/10/77
Danny LaPorte
Yucca Valley, CA
SUZ
4/4/76
Bob Hannah
Whittier, CA
YAM
4/6/75
Tim Hart
Torrance, CA
YAM
4/8/74
Marty Smith
San Diego, CA
HON
500cc Motocross
Date
Winner
Hometown
Machine
3/31/85
Broc Glover
El Cajon, CA
YAM
4/8/84
David Bailey
Axton, VA
HON
3/27/83
Danny Chandler
Foresthill, CA
HON