Brandon Short
Lucas Oil Pro Motocross Championship Results: Peterson CAT Washougal National
Time
Saturday, July 29, 2017 | 11:10 PM
Musquin Dominant Again at Washougal to Claim Back-to-Back
Lucas Oil Pro Motocross Championship Victories
Savatgy Goes Back-to-Back in 250 Class Following Dramatic Win
The 2017 Lucas Oil Pro Motocross Championship, sanctioned by AMA Pro Racing, made its annual visit to the scenic Pacific Northwest on Saturday for the Peterson CAT Washougal National from Washougal MX Park. The ninth round of the season featured picture perfect weather conditions, in which Team Red Bull KTM Factory Racing's Marvin Musquin was able to continue his recent run of dominance, posting a 1-1 sweep in the 450 Class for the second straight week to capture his third overall victory of the season. In the 250 Class, Monster Energy/Pro Circuit/Kawasaki's Joey Savatgy put himself back atop the podium for the second straight week, emerging triumphant following a wild and dramatic battle for victory amongst four riders.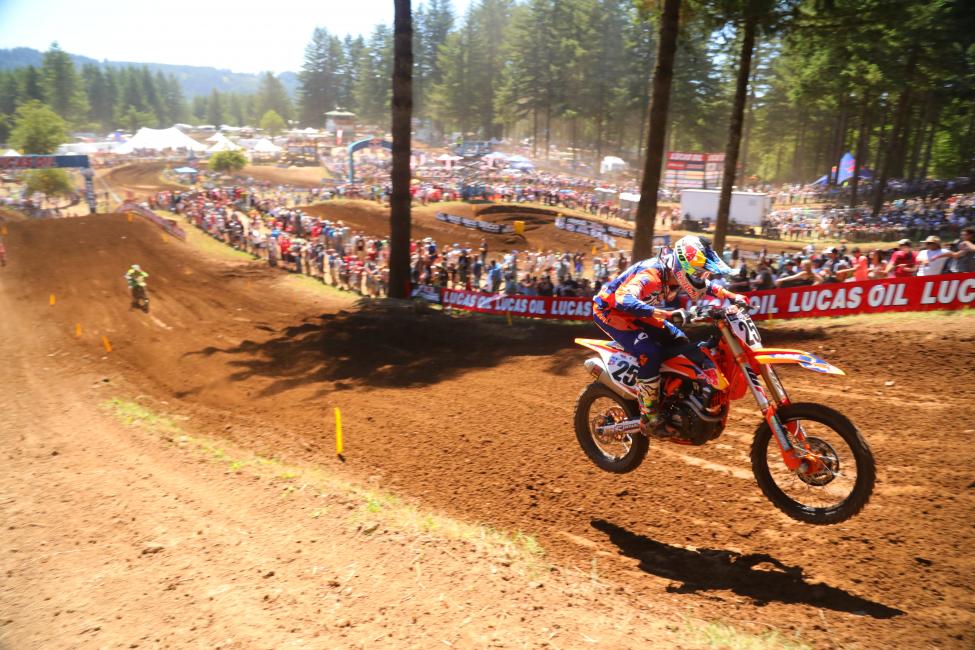 Musquin picked up where he left off from the week prior by grabbing the Motosport.com Holeshot to start the opening 450 Class moto, ahead of Rockstar Energy Husqvarna Factory Racing's Marvin Musquin, RCH/Yoshimura/Suzuki Factory Racing's Justin Bogle, and Monster Energy Kawasaki's Eli Tomac. Bogle would experience a bobble on the opening lap that caused him to lose several positions, allowing Tomac to move into third and set his sights on Davalos. The top three stayed close to one another for a couple laps before Tomac was able to take over second on Lap 2. He then made a charge onto Musquin's rear fender, beginning a thrilling battle for the lead.
On Lap 4 Tomac looked to make a pass in several areas and successfully got to Musquin's inside in one of the track's fastest corners. Musquin held the outside line to keep alongside Tomac, but lost traction with his rear tire, which resulted in contact between the two. Musquin came out ahead, but Tomac continued pursuit. From there the top two continued to set a torrid pace, with Musquin inching away slightly. As the laps continued, Musquin's gap increased and soon he sat in full control of the moto, leaving Tomac to settle into second. Behind them, Davalos gave up third position to Team Honda HRC's Cole Seely, who was able to pull away and ultimately run unchallenged for the position throughout the entirety of the moto.
The lead trio was able to maintain their pace and assert themselves in their respective positions, with Musquin racing to his third straight moto win, 10.6 seconds ahead of Tomac. Seely followed in a distant third, with Davalos fourth and his Rockstar Energy Husqvarna Factory Racing teammate Dean Wilson fifth.
When the gate dropped on Moto 2 it was Davalos who emerged with his second Motosport.com Holeshot of the season over Bogle and RMATV/MC-WPS-KTM's Blake Baggett. Musquin slotted into fourth, with Tomac just a couple spots behind him. Davalos was able to keep his Husqvarna out front for a couple laps, but Musquin was on a march to the front. The Frenchman jumped from fourth to second on Lap 1 and set his sights on Davalos, seizing control of the lead on Lap 3.
Behind him, Tomac was fighting to keep pace, patiently making passes and eventually moving into third on Lap 2. Just a couple laps later Tomac made the pass on Davalos for second. By the time the Kawasaki rider slotted into the runner-up spot Musquin had already established a multiple-second lead. The distance between the two would continue to grow, with Tomac choosing to settle for second and take valuable championship points. Davalos asserted himself into third, keeping Baggett at bay.
Musquin capped off another dominant outing by taking the win 11.7 seconds ahead of Tomac. Davalos earned the first moto podium result of his career in third.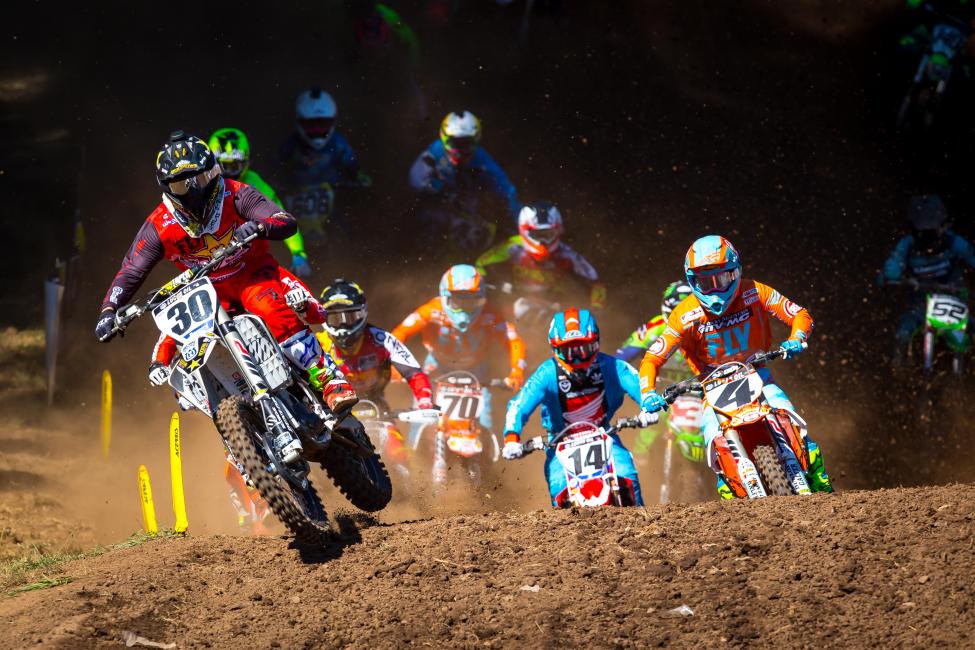 One week after he broke through for his first 1-1 sweep in the premier division, Musquin duplicated that effort in Washougal to secure his third overall victory of the season, and the third of his career.
"I didn't expect to win it that way [today]. We had a great start in the first moto, but Eli [Tomac] was right there and quicker than me. We struggled a little bit and I was fighting with the bike and didn't have flow," said Musquin. "For some reason I got a little bit better and got [more] confident, and got the win. For the second moto we made some changes to the bike and it helped, so we were better. It feels good to get another win."
Tomac took home a solid runner-up finish (2-2), while Davalos' career-best moto vaulted him onto the overall podium for the very first time. He's the eighth different rider to land on the overall podium this season.
"[Musquin] was going fast. I was doing what I could," said Tomac. "We had that little bump [in Moto 1] and I tried to settle into a pace, but he kept going faster. At that point I just settled in [to second]. That was all we got. Today we were just the second-best guy."
Tomac's second-place finish helped him add to his lead in the championship standings, moving out to 32 points ahead of Baggett, who finished fifth overall (7-4). Musquin sits third, 54 points out of the lead and 22 points behind Baggett.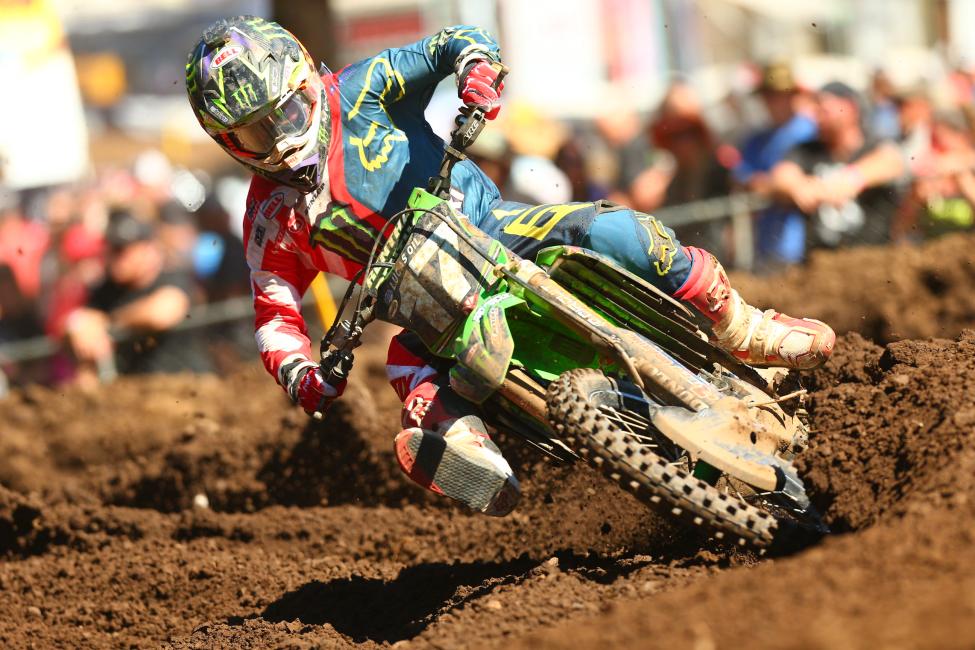 The first 250 Class moto saw Yamalube/Star Racing Yamaha's Aaron Plessinger race to the Motosport.com Holeshot just ahead of Troy Lee Designs/Red Bull/KTM rookie Sean Cantrell and fellow Yamalube/Star Racing Yamaha rider Dylan Ferrandis. Championship points leader Zach Osborne got mired deep in the field following a bad start and eventually completed the opening lap in 22nd aboard his Rockstar Energy Husqvarna Factory Racing machine. However, he would make his presence felt later in the moto.
The clear track allowed Plessinger to quickly open a gap on the field, while Cantrell and Ferrandis engaged in a battle for second, along with Yamalube/Star Racing Yamaha's Mitchell Harrison and Monster Energy/Pro Circuit/Kawasaki's Adam Cianciarulo. The Kawasaki rider, who set the fastest lap in qualifying, got past Harrison on Lap 4 and set his sights on the podium. Ferrandis' continued pursuit of Cantrell slowed his pace a bit, which allowed Cianciarulo to seize the opportunity to move into third on Lap 5. On the following lap Cianciarulo got by Cantrell for second, but at that point he already faced a deficit of more than 10 seconds to Plessinger, who continued to run comfortably out front.
Plessinger and Cianciarulo soon asserted themselves at the front of the field, while Ferrandis was finally able to get around Cantrell for third. From there the top three would remain unchanged. As the moto continued to wear on, Osborne was mounting his charge through the field. He broke into the top 15 on Lap 2 and continued to methodically move forward, soon breaking into the top 10 on Lap 7. His climb up the standings wasn't complete, as he soon found himself challenging for the top five on Lap 10 before taking over fifth on Lap 11.
Plessinger went unchallenged and led wire to wire to win his second moto of the season, 10.3 seconds ahead of Cianciarulo. As they made the stretch run to the finish through Washougal's iconic whoops, Ferrandis was forced to fend off both his teammate Harrison and Osborne. The Frenchman took the final podium spot by about half a bike length over Osborne, while Harrison dropped to fifth. Savatgy was not a factor in the moto after a crash, recovering to finish seventh.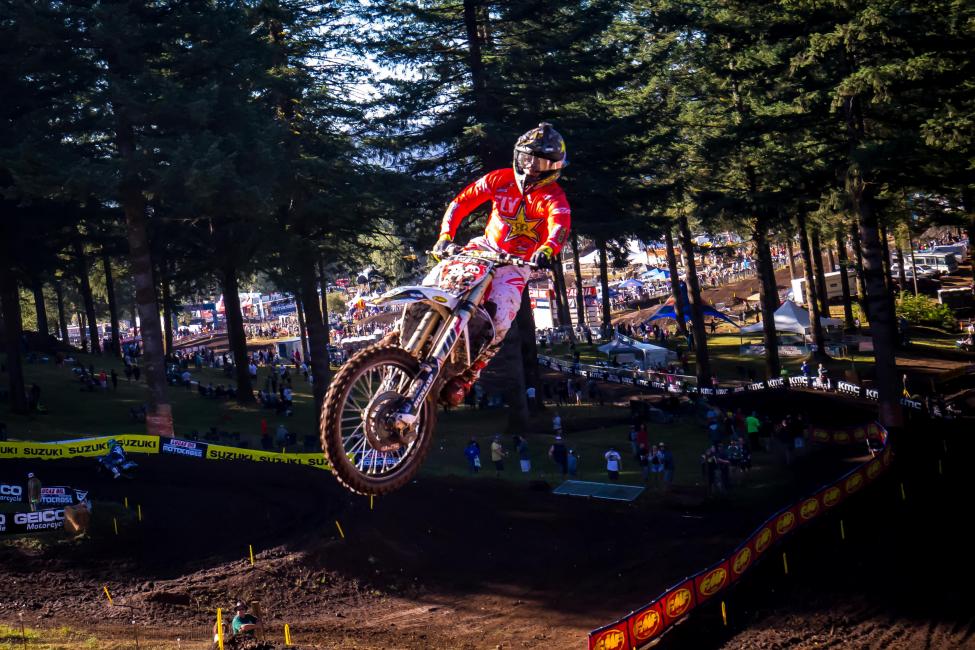 As the field stormed out of the gate to start Moto 2 it was Savatgy who secured the holeshot ahead of GEICO Honda's RJ Hampshire and Cianciarulo. Plessinger started sixth, while Osborne settled into eighth. Savatgy was able to lead the first lap but then came under fire from Hampshire, who applied heavy pressure for a couple laps before successfully making the pass on Lap 3. On that same lap, Plessinger saw his hopes for victory go away when a crash dropped him from sixth to 12th.
Hampshire paced the field for a few laps before Savatgy mounted a challenge to reclaim the lead. After attempting a pass on Lap 6, only to be denied, Savatgy attempted another pass in the same spot the following lap, successfully putting his Kawasaki back out front.
Once he returned to the lead, Savatgy was able to gradually pull away from Hampshire, who was solidly in second until a brief tip over caused him to lose ground to Cianciarulo, Osborne, and Ferrandis, with all four riders sitting within a couple seconds of one another. Cianciarulo was all over Hampshire for second, but the Honda rider withstood the challenge. That allowed Osborne to mount a challenge for third. Cianciarulo defended the initial pass attempt, but just a short time later Osborne made another charge and successfully moved into third. Despite the pass, Cianciarulo still controlled his own destiny in terms of the overall classification, needing to finish fourth in order to clinch his first career victory.
With Savatgy clear out front by several seconds, Hampshire holding on to second, and Osborne third, Cianciarulo then fell into the clutches of Ferrandis on the final lap. The Frenchman applied heavy pressure on the Kawasaki rider and was able to slip inside as they crested Horsepower Hill. Savatgy took the moto win by 2.8 seconds over Hampshire, who recorded a career-best moto result. Osborne followed in third, with Ferrandis and Cianciarulo rounding out the top five.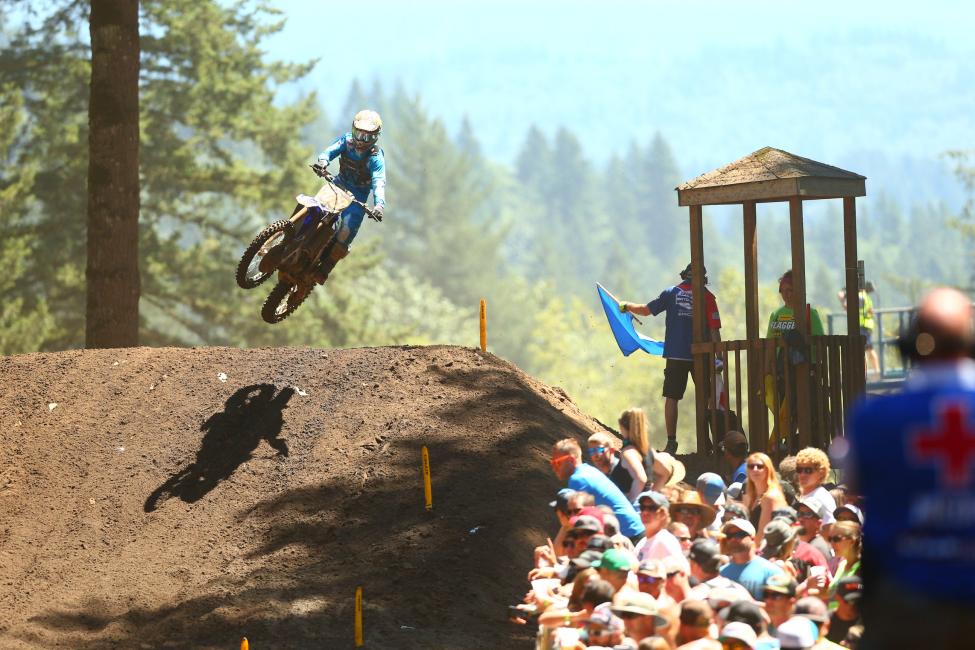 The last-lap pass by Ferrandis dramatically altered the complexion of the overall classification, giving a second straight overall victory to Savatgy (7-1). It was the sixth win of his career.
"Not a chance [did I think I won]. I thought maybe if I was on the podium then that'd be something realistic, and I'd be happy with that," said Savatgy. "[A] 7-1 [moto score] doesn't win, or it doesn't win often. I was just stoked to be on the [podium], but the way the cards were dealt we walked out with the win. I don't expect that to happen again."
Just a single point separated Savatgy from a three-way tie for the runner-up spot, with the second-moto tiebreaker awarding second to Osborne (4-3) and third to Ferrandis (3-4). Cianciarulo (2-5) was bumped off the podium, ultimately dropping from first to fourth overall on the final lap.
"I went deep in the first moto [with my energy]. I was throwing up after. It was a lot of effort and I knew I'd be missing something in the second moto," said Osborne. "After everything that happened today, to end up on the podium, I'm really happy about that."
With his runner-up finish Osborne maintained his assertive control on the championship. His lead now sits at 74 points over GEICO Honda's Jeremy Martin, who finished seventh overall (9-6). Troy Lee Designs/Red Bull/KTM's Alex Martin, who did not race at Washougal due to an injury suffered in training, is third, 81 points out of the lead.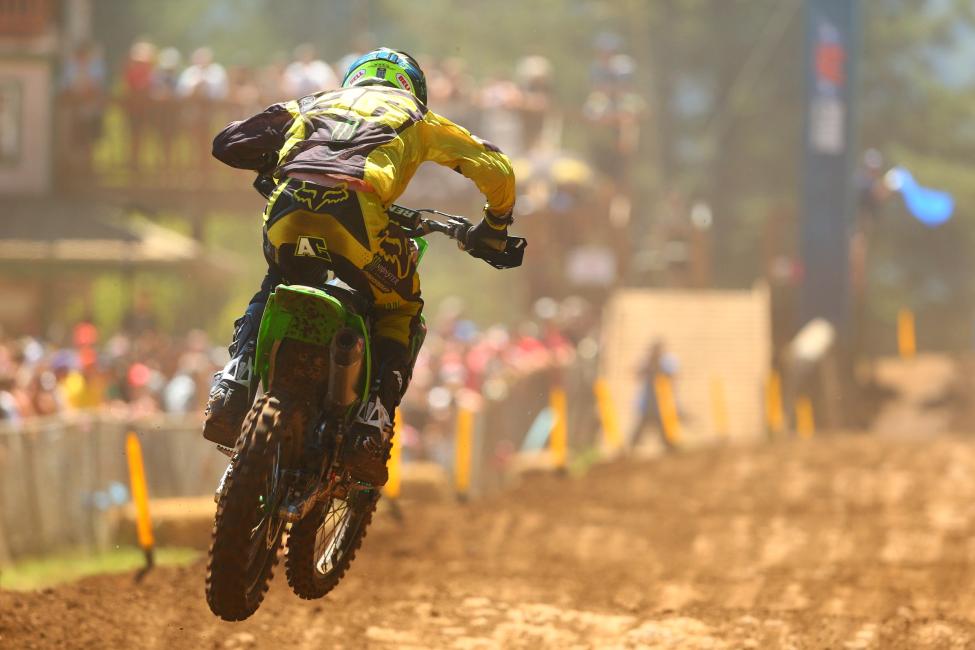 The 2017 Lucas Oil Pro Motocross Championship will observe its final break in action of the season before returning on Saturday, August 12, for the 10th round at Unadilla MX in New Berlin, New York. First motos of the Unadilla National can be seen live on MAVTV at 10 p.m. PT / 1 p.m. ET. The second motos will air via tape delay on NBC Sports Network at 4:30 p.m. PT / 7:30 p.m. ET.
Results
Lucas Oil Pro Motocross Championship
Peterson CAT Washougal National
Washougal MX Park – Washougal, Washington
July 29, 2017
450 Class Overall Results (Moto Finish)
Marvin Musquin, La Reole, France, KTM (1-1)
Eli Tomac, Cortez, Colo., Kawasaki (2-2)
Martin Davalos, Quito, Ecuador, Husqvarna (4-3)
Cole Seely, Newbury Park, Calif., Honda (3-5)
Blake Baggett, Grand Terrace, Calif., KTM (7-4)
Dean Wilson, Glasgow, Scotland, Husqvarna (5-6)
Weston Peick, Wildomar, Calif., Suzuki (6-8)
Christian Craig, El Cajon, Calif., Honda (9-9)
Justin Bogle, Cushing, Okla., Suzuki (8-10)
Dakota Alix, Jay, Vt., KTM (12-12)
450 Class Championship Standings
Eli Tomac, Cortez, Colo., Kawasaki – 373
Blake Baggett, Grand Terrace, Calif., KTM – 341
Marvin Musquin, La Reole, France, KTM – 319
Dean Wilson, Glasgow, Scotland, Husqvarna – 269
Cole Seely, Newbury Park, Calif., Honda – 228
Jason Anderson, Edgewood, N.M., Husqvarna – 216
Justin Bogle, Cushing, Okla., Suzuki – 212
Martin Davalos, Quito, Ecuador, Husqvarna – 208
Weston Peick, Wildomar, Calif., Suzuki – 197
Cooper Webb, Newport, N.C., Yamaha – 177
250 Class Overall Results (Moto Finish)
Joey Savatgy, Thomasville, Ga., Kawasaki (7-1)
Zach Osborne, Abingdon, Va., Husqvarna (4-3)
Dylan Ferrandis, Avignon, France, Yamaha (3-4)
Adam Cianciarulo, Port Orange, Fla., Kawasaki (2-5)
RJ Hampshire, Hudson, Fla., Honda (6-2)
Aaron Plessinger, Hamilton, Ohio, Yamaha (1-9)
Jeremy Martin, Millville, Minn., Honda (9-6)
Colt Nichols, Muskogee, Okla., Yamaha (10-7)
Shane McElrath, Canton, N.C., KTM (11-8)
Mitchell Harrison, Brighton, Mich., Yamaha (5-15)
250 Class Championship Standings
Zach Osborne, Abingdon, Va., Husqvarna – 377
Jeremy Martin, Millville, Minn., Honda – 303
Alex Martin, Millville, Minn., KTM – 296
Joey Savatgy, Thomasville, Ga., Kawasaki – 281
Dylan Ferrandis, Avignon, France, Yamaha – 264
Aaron Plessinger, Hamilton, Ohio, Yamaha – 256
Adam Cianciarulo, Port Orange, Fla., Kawasaki – 254
Colt Nichols, Muskogee, Okla., Yamaha – 213
Mitchell Harrison, Brighton, Mich., Yamaha – 212
Shane McElrath, Canton, N.C., KTM – 192
For information about the Lucas Oil Pro Motocross Championship, please visit ProMotocross.com and be sure to follow all of the Pro Motocross social media channels for exclusive content and additional information on the latest news: