Est: 2005
Welcome to the 15th Annual Thunder Valley National, Round 3 of the 2019 Lucas Oil Pro Motocross Championship, sanctioned by AMA Pro Racing.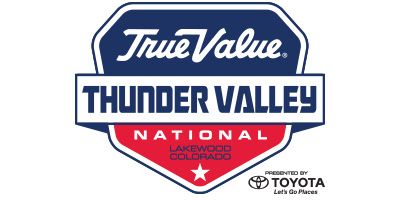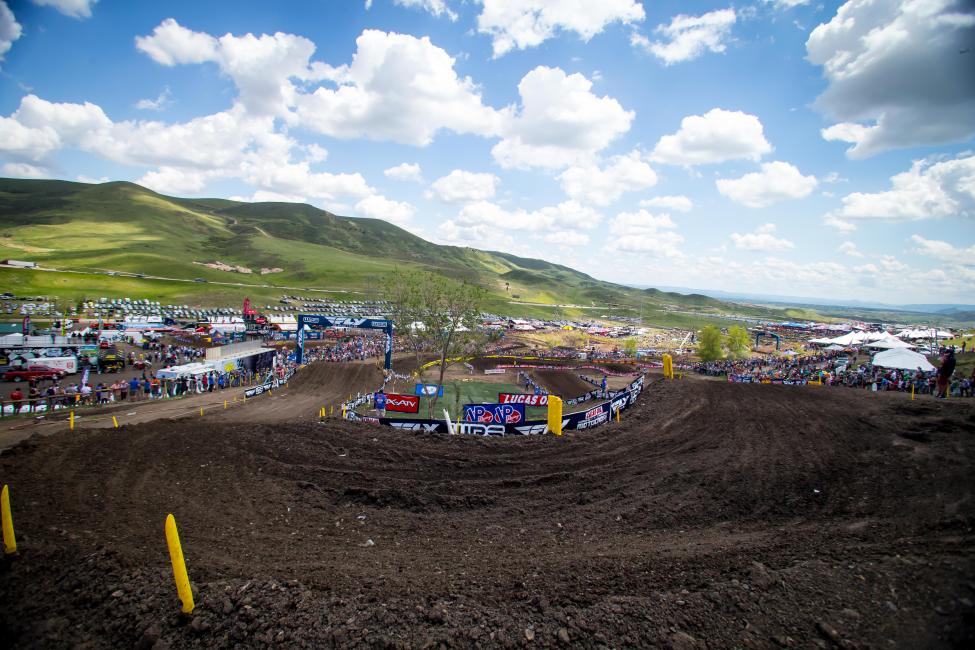 Track Profile
Promoter David Clabaugh couldn't have known how appropriate his track's name would become. He knew that nearby was an NHRA drag-racing track with the same name (Thunder Valley), but within a few short years of the founding of the motocross track, four-strokes took over motocross completely, leaving a sound of thunder every time the gate dropped at the facility.
Clabaugh has been around racing since he was a child. "I've been racing since I was 10 years old," he explains. "When I got to the pro class, I realized that it wasn't going to last forever, and I wanted to stay in the sport somehow, so I decided I wanted to buy a track. Clabaugh has put his blood, sweat, and tears into the facility, and the national here is seen as an example of what a world-class motocross event should look and feel like.
I ran local races on the weekends; however, I wanted the facility to grow," Clabaugh says. "I wanted an AMA Pro Motocross Championship event. In 2000, I met MX Sports' Tim Cotter, and I figured the only way I was ever going to get a national was to start going to as many of them as I could and figure out how it worked. I worked on the banner crew for about two years, just getting the inside line on how it all works. I began talking with John Ayers [also of MX Sports] about wanting a national in order to learn all sides of the sport and figure out how to promote. During this time, I had shown interest in being a promoter, and several people had come out to my facility to see if I was equipped to have an AMA Pro Motocross Championship event. I had made lots of upgrades to the facility with buildings, filling in ravines, etc.
I heard there was going to be a spot open on the national schedule and was told that Thunder Valley was first on the list." Truth be told, Thunder Valley wasn't just first on the list, it was the best choice, as Clabaugh and his loyal staff have proven every year since his first national, in 2005.
Thunder Valley, just a few miles below downtown Denver, hosted its first AMA Pro Motocross National in July of 2005. In the first few years of racing at the facility, riders and mechanics were met with a combination of altitude and summertime heat that not only made it physically difficult on them but caused the fuel in the motorcycles to literally boil. The solution was a revolutionary one: in 2008, Thunder Valley hosted the first AMA Pro Motocross National ever held at night, under a battery of lights that illuminated the valley. With a live internet and TV audience watching, the race was a smash hit. This year, Thunder Valley's event will be held during the daylight hours.
Amenities
Grandstand Seating
Open Air Festival Seating
Covered VIP Viewing Areas with live timing and scoring, private restrooms, and catering
Covered Super Ticket Viewing Area
Open Air Corporate Suites
Handicap Viewing Area
Infield Track Viewing via Two Track Tunnels
Nearly 100% track Viewing from a variety of vantage points
Large interactive Sponsor Village
Food and Soft Drink Concessions
Beer Concessions
State-of-the-art sound system
Event Simulcast on FM Radio
Baby Changing Station
Free & VIP paid Parking
Onsite Parking
Motorcycle Parking
Handicap Parking
Easy entry/Exit
Onsite Camping
Reserved RV spots
Free Motorcycle Parking and Gear/Helmet Check
Jumbotron Viewing
Amateur Motocross Racing Sunday
General Information
No drones allowed on property
No pit vehicles. We do not allow bikes, quads, scooters golf carts, UTVs, etc.
No bicycles in the pits
No pets on Saturday
No glass allowed on property
Be prepared to show credentials at all security checkpoints
Will Call is located across the road from the Main Spectator Entrance.
Rental Car entrance is located on Rooney Road in field across from Paddock.
No open campfires. Gas and charcoal cooking grills ONLY permitted.
Do not take banners. Banners and event signage are the private property of the promoter. Removal of these items is illegal and punishable by law. You will be prosecuted for theft.
Responsibility. Motocross racing, like all motorsports can be dangerous. When you enter the grounds you assume the risk of injury and/or damage. It is your responsibility to keep yourself and your children. Be aware of their location at all times. Never turn you back to oncoming racers.
Special Events
2019 Special Events will be announced at a later date.
Local Partners
True Value
Toyota
Honnen Equipment
Defy Graphics
Sun Enterprises
Vickery Motorsports
Fay Myers Motorcycle World
G-Force Powersports
Performance Cycle
Coors Distributing
Law Tigers
ZULZ Bag Company
Get Connected
Facebook: @TVMX.net
Instagram: @thundervalleymx
Contact Us
Colorado Motorsports
David Clabaugh (303) 697-1003
[email protected]
Thunder Valley National Winners
| | | | |
| --- | --- | --- | --- |
| 450 Class | | | |
| Date | Winner | Hometown | Machine |
| 6/2/18 | Eli Tomac | Cortez, CO | KAW |
| 6/3/17 | Blake Baggett | Grand Terrace, CA | KTM |
| 6/4/16 | Ken Roczen | Germany | SUZ |
| 5/30/15 | Ryan Dungey | Belle Plaine, MN | KTM |
| 6/7/14 | Ken Roczen | Germany | KTM |
| 6/25/13 | Ryan Villopoto | Poulsbo, WA | KAW |
| 6/2/12 | Ryan Dungey | Belle Plaine, MN | KTM |
| 6/25/11 | Ryan Dungey | Belle Plaine, MN | SUZ |
| 6/26/10 | Ryan Dungey | Belle Plaine, MN | SUZ |
| 6/27/09 | Ivan Tedesco | Murrieta, CA | HON |
| 6/29/08 | James Stewart | Haines City, FL | KAW |
| 7/22/07 | James Stewart | Haines City, FL | KAW |
| 7/23/06 | Ricky Carmichael | Havana, FL | SUZ |
| 7/24/05 | Ricky Carmichael | Havana, FL | SUZ |
| | | | |
| --- | --- | --- | --- |
| 250 Class | | | |
| Date | Winner | Hometown | Machine |
| 6/2/18 | Jeremy Martin | Millville, MN | HON |
| 6/3/17 | Joey Savatgy | Thomasville, GA | KAW |
| 6/4/16 | Joey Savatgy | Thomasville, GA | KAW |
| 5/30/15 | Jeremy Martin | Millville, MN | YAM |
| 6/7/14 | Blake Baggett | Grand Terrace, CA | KAW |
| 6/25/13 | Eli Tomac | Cortez, CO | HON |
| 6/2/12 | Justin Barcia | Monroe, NY | HON |
| 6/25/11 | Blake Baggett | Grand Terrace, CA | KAW |
| 6/26/10 | Christophe Pourcel | France | KAW |
| 6/27/09 | Jake Weimer | Rupert, ID | KAW |
| 6/29/08 | Ryan Villopoto | Poulsbo, WA | KAW |
| 7/22/07 | Ben Townley | New Zealand | KAW |
| 7/23/06 | Ryan Villopoto | Poulsbo, WA | KAW |
| 7/24/05 | Ivan Tedesco | Murrieta, CA | KAW |