CALL TO ACTION: Vote Now for the AMA Motorcycle Hall of Fame - Class of 2021
Time
Thursday, July 22, 2021 | 3:30 PM
Call to Action:
Vote Now for the AMA Motorcycle Hall of Fame - Class of 2021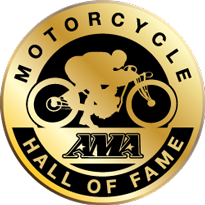 Voting for the AMA Motorcycle Hall of Fame, Class of 2021, is now open. Eligible voters include AMA Charter Life Members.
An email ballot was issued earlier today to eligible voters.
If you are an AMA Charter Life Member and did not receive an email ballot today, please use this link to vote: https://americanmotorcyclist.com/hof-vote-verify
You will need to set up an account and log-in in order to vote.
For the disciplines of motocross, supercross, and off-road racing, the following remarkable individuals are among this year's nominees:
Loretta Lynn:
The 40-year hostess of the AMA Amateur National Motocross Championship at Loretta Lynn Ranch (since 1982), the world's most famous amateur motorcycle event, as well as numerous other road and off-road motorcycle events, and of course, the Queen of Country Music.
Gary Denton:
8-Time AMA ATV Grand National Champion (Motocross & TT) (1987-1994)
Ryan Villopoto:
5-Time AMA Pro Motocross Champion (2006-2008, 2011, 2013)
4-Time AMA Supercross Champion (2011-2014)
4-Time Motocross of Nations Champion (2006-2008, 2011)
Grant Langston:
2-Time AMA Pro Motocross Champion (2003, 2007)
2-Time AMA 125cc Supercross Champion (2005-2006)
2000 FIM 125cc World Champion
NBC Pro Motocross broadcast analyst
Scott Plessinger:
2-Time AMA GNCC National Champion (1994-1995)
2-Time AMA National Hare Scrambles Champion (1989, 1992)
Why Vote:
No one person has done more to raise the awareness of the sport of motocross to the general public than Loretta Lynn. By lending her celebrity and opening up her home to the AMA Amateur National Motocross Championship over the past 40 years, Loretta Lynn is revered and beloved by an entire industry. Three generations of the AMA's best amateur racers have grown up at the ranch, many of whom went on to enjoy lucrative and celebrated Pro Motocross and Supercross careers. There is no bigger star in American motocross than Loretta Lynn.

No ATV racer has ever been inducted into the AMA Motorcycle Hall of Fame, despite tens of thousands of ATV-based AMA memberships sold since 1984. Hundreds of ATV Pro and amateur champions have been crowned by the AMA over the past 38 years, in both GNCC and ATVMX, and thousands of AMA memberships sold along the way. Now is the time for one the sport's most celebrated champions to be recognized by the entire AMA community. If you are an AMA Charter Life Member, it's time to vote for Gary Denton.

Ryan Villopoto is one of those graduates from Loretta Lynn's Ranch that went on to become one of the sport's most decorated athletes. With a total of nine national titles between Pro Motocross and Supercross over a span of nine years, Ryan went a step further and conquer the world four more times at the Motocross of Nations. Now an organizer of AMA amateur motocross events himself, Ryan remains devoted to the sport that gave him so much.

Although imported from South Africa, Grant Langston quickly made America his home after capturing the 2000 FIM World Championship. He made quick work of it, pulling down two Pro Motocross titles and two 125cc Supercross titles. There would have been more, but in 2008 Grant was forced off his motorcycle and into early retirement due to eye cancer. However, Grant had more to give to his sport and to his adopted country. In 2014, Grant picked up the microphone and joined the NBC Pro Motocross broadcast team, where he has provided exceptional insight and provocative commentary since. Perhaps his greatest achievement, in 2016, Grant earned his American citizenship.

In off-road racing, the 1990's was known as the decade of the "Great Scotts" to underscore the intense competition between AMA Hall of Famer Scott Summers and this year's nominee, Scott Plessinger. Hailing from Ohio, the home of the AMA and a hotbed for off-road racing talent, Scott Plessinger would lay claim to two GNCC titles and two AMA National Hare Scrambles championships during the decade, as well as countless overall wins. Now a prominent AMA motocross organizer himself, Scott Plessinger produces some of the largest AMA amateur motocross events, including AMA Regional Championships.
How to Vote:
If you are an AMA Charter Life Member (you have been an AMA member for 25 consecutive years), you must have up-to-date contact information on file with the AMA for access to the electronic ballot. Update your email with the AMA today by emailing [email protected] with "Contact Information Update" in the subject line. Then, once you receive the invitation to vote, VOTE!