Est: 1989
Welcome to the 29th running of the Budds Creek National. This year's Budds Creek National will serve as the penultimate round of the 2018 Lucas Oil Pro Motocross Championship, sanctioned by AMA Pro Racing.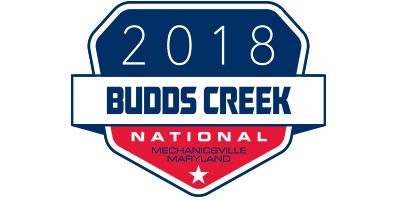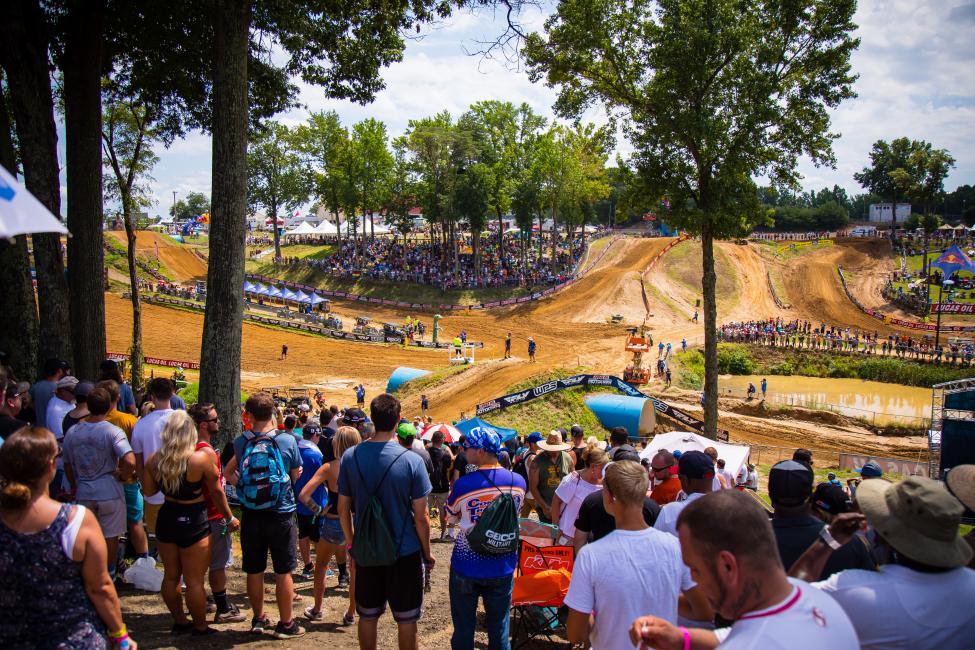 Track Profile
While serious business takes place a half hour away in Washington, D.C., the area around Budds Creek MX is pure relaxation. The nearby Chesapeake Bay draws travelers of all kinds, and perfect summer weather sets the National date as the right time to explore the area.
But while the track itself looks like pure fun, it gets brutally serious at the top level of Lucas Oil Pro Motocross. Perhaps fitting for a track so close to the nation's capital, Budds Creek offers classic American motocross, with the perfect combination of hills, jumps, corners and deep, tacky soil. The racing usually stays close, as passes come down to who can brake a little harder into a turn, or scrub a little harder over a jump. It's an all-arounder, as if some of the best components of the other twelve National tracks were dropped into a valley to produce an all-around marvel. From the right spots atop the hillsides, you can see it all, as well!
Make a weekend out of this one so you can check out D.C. and the beautiful Maryland countryside, and then sit back for some of the most intense motocross action anywhere. This place is part business, part fun, and all American.
2017 Special Events
Friday Fly Racing Amateur Racing, featuring Fly Racing Contingency (See Amateur Racing tab for details)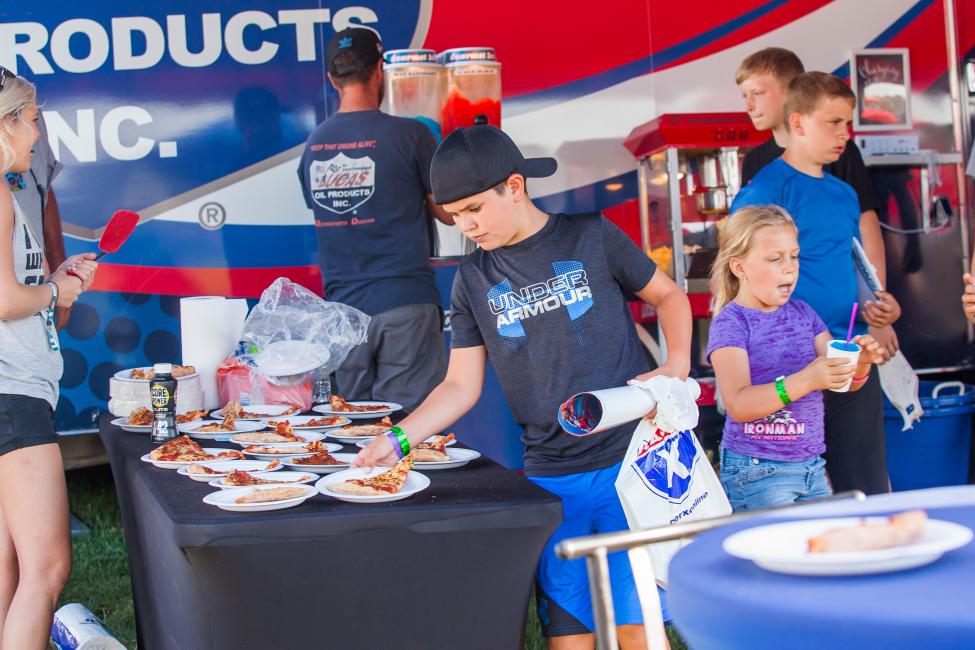 Friday Night "Pizza Party with the Pros" for ages 12 & under at the Super Ticket VIP Tent @ 6 PM. Meet some of the top 250 pro riders and the lovely Lucas Oil Girls for some fun, food, games and autographs, compliments of Lucas Oil.
Friday Night Pit Bike Race @ 7:00 PM (See Amateur Racing tab for details)
Saturday visit the Legends and Heroes Moto Museum in Sponsor Village for an up-close and personal look back at 51 years of American Motocross
Sunday Amateur Racing, featuring MDRA Bonus Points (See Amateur Racing tab for details)
Amenities
Free Motorcycle Parking and Gear/Helmet Check
Grandstand seating
Open Air Festival seating
Nearly 100% Track Viewing from a variety of vantage points
Infield Track Viewing via Two Track Tunnels
Covered Super Ticket VIP Viewing Areas with live timing and scoring, private restrooms, and catering
Handicap Viewing Area
Large interactive Sponsor Village
Legends and Heroes Display
State-of-the-art sound system
Event Simulcast on FM Radio Station 93.5
Food, Soft Drink and Beer Concessions
Onsite Free & VIP paid Parking
Convenient Handicap Parking
Easy Entry/Exit
Onsite Camping
Flushable Toilets
Local Partners
Alban CAT
Maryland International Speedway
Shipping Address
Budds Creek Raceway
27963 Budds Creek Road
Mechanicsville, MD 20659
General Information
Saturday Parking Fee: $10/vehicle
Gates open Thursday @ Noon and close midnight to 6 am daily. Please plan accordingly.
Be prepared to show credentials at all security checkpoints
General Information: located at the Main Entrance/Gate 1
Will Call: located outside of Main gate, look for the big white tent when arriving.
Security: Headquartered at Main Entrance/Gate 1
Lost & Found: located at Announcer Tower
Pets Allowed: must remain on leash at all times. Must stay in Camping Area and Amateur Pits. No pets allowed in main fan areas on Saturday.
No glass bottles allowed on property
No drones or remote control aircraft permitted
No pit vehicles. We do not allow pit bikes, quads, scooters, golf carts, UTVs, etc.
Do not take banners. Banners and event signage are the private property of the promoter. Removal of these items is illegal and punishable by law. You will be prosecuted for theft.
Responsibility. Motocross racing, like all motorsports can be dangerous. When you enter the grounds you assume the risk of injury and/or damage. It is your responsibility to keep yourself and your children. Be aware of their location at all times. Never turn you back to oncoming racers.
Keep your radio tuned to MXFM 93.5 FM for up-to-date announcements, racing news, interviews and information throughout the weekend. Although we have a public address system, the best way to stay tuned is to tune in.
Be Social with High Point Raceway, like the official Facebook Page!
Budds Creek National Winners
| | | | |
| --- | --- | --- | --- |
| 450 Class | | | |
| Date | Winner | Hometown | Machine |
| 8/19/17 | Justin Bogle | Cushing, OK | SUZ |
| 8/27/16 | Ken Roczen | Germany | SUZ |
| 6/27/15 | Justin Barcia | Monroe, NY | YAM |
| 7/12/14 | Ryan Dungey | Belle Plaine, MN | KTM |
| 6/22/13 | Ryan Dungey | Belle Plaine, MN | KTM |
| 6/16/12 | Ryan Dungey | Belle Plaine, MN | KTM |
| 6/18/11 | Chad Reed | Australia | HON |
| 6/19/10 | Ryan Dungey | Belle Plaine, MN | SUZ |
| 8/22/09 | Chad Reed | Australia | SUZ |
| 7/13/08 | James Stewart | Haines City, FL | KAW |
| 6/17/07 | Ricky Carmichael | Havana, FL | SUZ |
| 6/18/06 | Ricky Carmichael | Havana, FL | SUZ |
| 6/19/05 | Ricky Carmichael | Havana, FL | SUZ |
| 6/20/04 | Ricky Carmichael | Havana, FL | HON |
| 6/15/03 | Ricky Carmichael | Havana, FL | HON |
| 6/16/02 | Ricky Carmichael | Havana, FL | HON |
| 6/17/01 | Ricky Carmichael | Havana, FL | KAW |
| 6/18/00 | Ricky Carmichael | Havana, FL | KAW |
| 6/20/99 | Kevin Windham | Baton Rouge, LA | HON |
| 6/21/98 | Doug Henry | Oxford, CT | YAM |
| 6/15/97 | Ezra Lusk | Bainbridge, GA | YAM |
| 6/16/96 | Jeremy McGrath | Menifee, CA | HON |
| 6/18/95 | Jeremy McGrath | Menifee, CA | HON |
| 5/22/94 | Mike LaRocco | South Bend, IN | KAW |
| | | | |
| --- | --- | --- | --- |
| 250 Class | | | |
| Date | Winner | Hometown | Machine |
| 8/19/17 | Adam Cianciarulo | Port Orange, FL | KAW |
| 8/27/16 | Zach Osborne | Abingdon, VA | HSQ |
| 6/27/15 | Marvin Musquin | France | KTM |
| 7/12/14 | Blake Baggett | Grand Terrace, CA | KAW |
| 6/22/13 | Blake Baggett | Grand Terrace, CA | KAW |
| 6/16/12 | Blake Baggett | Grand Terrace, CA | KAW |
| 6/18/11 | Tyla Rattray | South Africa | KAW |
| 6/19/10 | Dean Wilson | Scotland | KAW |
| 8/22/09 | Jake Weimer | Rupert, ID | KAW |
| 7/13/08 | Ryan Villopoto | Poulsbo, WA | KAW |
| 6/17/07 | Ryan Villopoto | Poulsbo, WA | KAW |
| 6/18/06 | Ryan Villopoto | Poulsbo, WA | KAW |
| 6/19/05 | Michael Brown | Johnson City, TN | HON |
| 6/20/04 | James Stewart | Haines City, FL | KAW |
| 6/15/03 | James Stewart | Haines City, FL | KAW |
| 6/16/02 | James Stewart | Haines City, FL | KAW |
| 6/17/01 | Michael Brown | Johnson City, TN | KAW |
| 6/18/00 | Stephane Roncada | France | YAM |
| 6/20/99 | Tallon Vohland | Citrus Heights, CA | HON |
| 6/21/98 | Ricky Carmichael | Havana, FL | KAW |
| 6/15/97 | Ricky Carmichael | Havana, FL | KAW |
| 6/16/96 | Steve Lamson | Pollock Pines, CA | HON |
| 6/18/95 | Steve Lamson | Pollock Pines, CA | HON |
| 5/22/94 | Steve Lamson | Pollock Pines, CA | HON |
| 10/4/92 | Jeff Emig | Kansas City, KS | YAM |
| 10/6/91 | Guy Cooper | Stillwater, OK | SUZ |
| 10/7/90 | Mike Kiedrowski | Canyon Country, CA | HON |
| 10/8/89 | Mike Kiedrowski | Canyon Country, CA | HON |
500cc Motocross
Date
Winner
Hometown
Machine
10/4/92
Jeff Stanton
Sherwood, MI
HON
10/6/91
Jean-Michel Bayle
France
HON
10/7/90
Jeff Stanton
Sherwood, MI
HON
10/8/89
Jean-Michel Bayle
France
HON