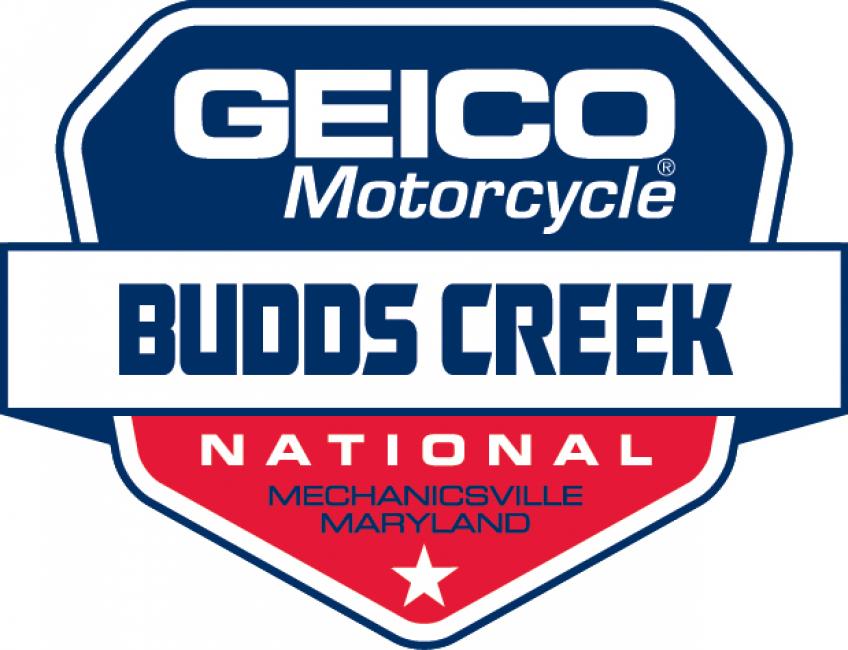 Welcome to the 28th running of the GEICO Motorcycle Budds Creek National. This year's Budds Creek National will serve as the penultimate round of the 2017 Lucas Oil Pro Motocross Championship, sanctioned by AMA Pro Racing.
Track Profile
While serious business takes place a half hour away in Washington, D.C., the area around Budds Creek MX is pure relaxation. The nearby Chesapeake Bay draws travelers of all kinds, and perfect summer weather sets the National date as the right time to explore the area.
But while the track itself looks like pure fun, it gets brutally serious at the top level of Lucas Oil Pro Motocross. Perhaps fitting for a track so close to the nation's capital, Budds Creek offers classic American motocross, with the perfect combination of hills, jumps, corners and deep, tacky soil. The racing usually stays close, as passes come down to who can brake a little harder into a turn, or scrub a little harder over a jump. It's an all-arounder, as if some of the best components of the other twelve National tracks were dropped into a valley to produce an all-around marvel. From the right spots atop the hillsides, you can see it all, as well!
Make a weekend out of this one so you can check out D.C. and the beautiful Maryland countryside, and then sit back for some of the most intense motocross action anywhere. This place is part business, part fun, and all American.
Special Events
Friday Fly Racing Amateur Racing, featuring Fly Racing Contingency (See Amateur Racing tab for details)
Friday Night join us for The Lucas Ladies Track Run & Auction @ 5:00 PM on the track starting gate. All proceeds benefit the Veteran MX Foundation.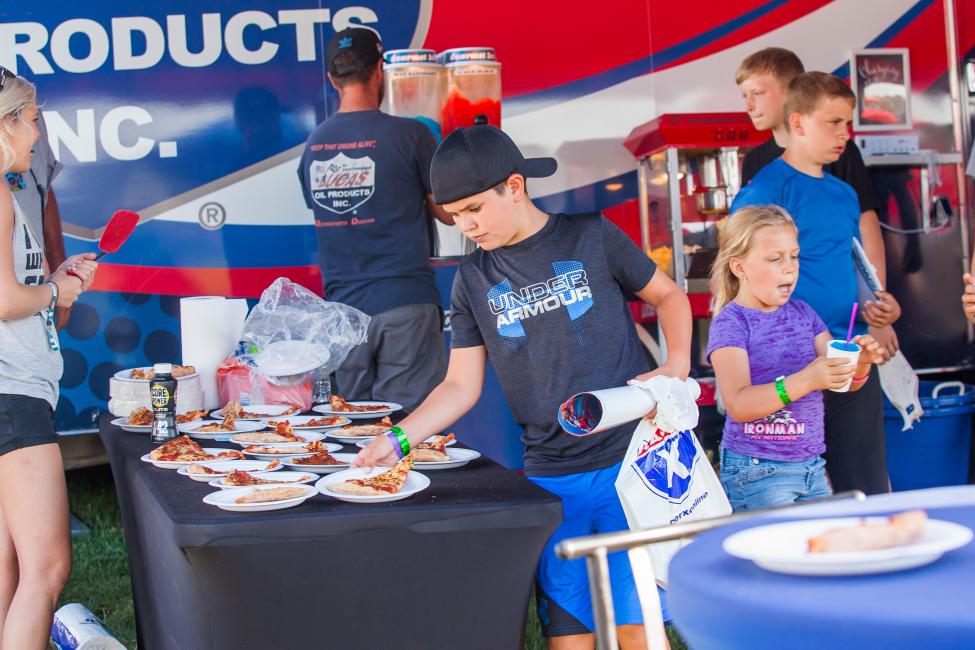 Friday Night "Pizza Party with the Pros" for ages 12 & under at the Super Ticket VIP Tent @ 6 PM. Meet some of the top 250 pro riders and the lovely Lucas Oil Girls for some fun, food, games and autographs, compliments of Lucas Oil.
Friday Night Pit Bike Race @ 7:00 PM (See Amateur Racing tab for details)
Saturday visit the Legends and Heroes Moto Museum in Sponsor Village for an up-close and personal look back at 51 years of American Motocross
Sunday Amateur Racing, featuring MDRA Bonus Points (See Amateur Racing tab for details)
Amenities
Free Motorcycle Parking and Gear/Helmet Check
Grandstand seating
Open Air Festival seating
Nearly 100% Track Viewing from a variety of vantage points
Infield Track Viewing via Two Track Tunnels
Covered Super Ticket VIP Viewing Areas with live timing and scoring, private restrooms, and catering
Handicap Viewing Area
Large interactive Sponsor Village
Legends and Heroes Display
State-of-the-art sound system
Event Simulcast on FM Radio Station 93.5
Food, Soft Drink and Beer Concessions
Onsite Free & VIP paid Parking
Convenient Handicap Parking
Easy Entry/Exit
Onsite Camping
Flushable Toilets
Local Partners
Alban CAT
Maryland International Speedway
Shipping Address
Budds Creek Raceway
27963 Budds Creek Road
Mechanicsville, MD 20659
General Information
Saturday Parking Fee: $10/vehicle
Gates open Thursday @ Noon and close midnight to 6 am daily. Please plan accordingly.
Be prepared to show credentials at all security checkpoints
General Information: located at the Main Entrance/Gate 1
Will Call: located outside of Main gate, look for the big white tent when arriving.
Security: Headquartered at Main Entrance/Gate 1
Lost & Found: located at Announcer Tower
Pets Allowed: must remain on leash at all times. Must stay in Camping Area and Amateur Pits. No pets allowed in main fan areas on Saturday.
No glass bottles allowed on property
No drones or remote control aircraft permitted
No pit vehicles. We do not allow pit bikes, quads, scooters, golf carts, UTVs, etc.
Do not take banners. Banners and event signage are the private property of the promoter. Removal of these items is illegal and punishable by law. You will be prosecuted for theft.
Responsibility. Motocross racing, like all motorsports can be dangerous. When you enter the grounds you assume the risk of injury and/or damage. It is your responsibility to keep yourself and your children. Be aware of their location at all times. Never turn you back to oncoming racers.
Keep your radio tuned to MXFM 93.5 FM for up-to-date announcements, racing news, interviews and information throughout the weekend. Although we have a public address system, the best way to stay tuned is to tune in.
Be Social with High Point Raceway, like the official Facebook Page!
Camping
On-site Camping available Thursday – Sunday.
Preferred Camping available in limited quantity.
All vehicles on premises overnight must have a camping permit.
We will park you as you arrive, in the next available space, in the area of your choice. You may not save spots for people who will arrive later.
Camping spaces are no wider than 20'.
All tents/awnings must be staked down securely.
No campsites, tents or awnings permitted within 40' of the motocross track fence.
Gates closed Midnight to 6 am daily - please plan accordingly.
Gate prices do not change until Midnight. If you arrive prior to midnight, you will be charged that day's admission.
Wristbands must be worn at all times. If you leave the facility you must have it on in order to re-enter. This is your gate ticket. Do not take it off.
Quiet time is 11:00 pm nightly. No loud generators after this time.
Stay off the track: The racetrack if off limits to fans. Only registered racers and authorized personnel are permitted on the racetrack. No one is permitted on the racetrack at night.
Search Policy: All vehicles are subject to search at any time.
Prohibited items: No fireworks, glass bottles, kegs, scaffolding or weapons. Track is not responsible for return of confiscated items.
No open campfires. Small contained cooking fires are permitted no larger than 20" diameter.
Pets allowed - Must remain on leash at all times. Must stay in Camping Area and Amateur Pits. No pets allowed in main fan areas on Saturday.
Fire Extinguishers. All campers/haulers over 20' should be equipped with a fully functioning fire extinguisher.
Sanitation: Please use our trash receptacles. If you need trash bags, you can get them from the front gate.
Sleep Safe: Be aware of the dangers of carbon monoxide poisoning.
Motocross Racing is a family activity, and one of the most exciting features is the opportunity to camp out and have fun with your family and friends. However, if you are staying overnight in an RV or vehicle, or using a generator, you need to be aware of the dangers of Carbon Monoxide (CO) Poisoning. CO is a poisonous, colorless, odorless and tasteless gas that can be released when burning gasoline, kerosene, oil, propane or wood.
Mind your vehicle and generator exhaust while in close proximity to your family and neighbors. Do not place your generator directly under a slide-out or under your vehicle, where the fumes can seep into the camper. Make sure all exhaust fumes are properly and fully vented, so that they do not become trapped or seep into your sleeping quarters. When sleeping in a van, car or truck, make sure the exhaust is unobstructed if you run the engine for heat. Even when sleeping outdoors under the stars, make sure you are not too close to an exhaust. Devastating consequences can result without proper ventilation.
What to do if you suspect someone has been poisoned:
When you suspect CO poisoning, promptly taking the following actions can save lives:
Move the victim immediately to fresh air in an open area
Call 911 and notify track officials immediately.
Administer CPR if the victim has stopped breathing. (Be careful not to expose yourself to fatal levels of CO poisoning when administering CPR).
Know the dangers of Carbon Monoxide poisoning. For more information, please visit the United States Environmental Protection Agency page on Carbon Monoxide. http://www.epa.gov/iaq/co.html
Camping FAQs
Here are some frequently asked questions regarding Camping. For more information on the Budds Creek National, please call our offices at (304) 284-0084.
What is the difference between Fan Camping and Preferred Camping?
Preferred Camping is generally located much closer to the track and tends to have more families.
Is camping based on reservations or first-come basis?
In order to get all of the campers parked in a safe and orderly fashion, camping is first-come.
Are there electric or water hook ups for RVs?
No. All camping is primitive.
If we elect to camp, what time do we need to be out of the camping spot on Sunday?
After amateur racing is finished.
Any other questions or needs can be directed to [email protected]
Handicap or Special Needs requests can be directed to [email protected]
Budds Creek National Winners
| | | | |
| --- | --- | --- | --- |
| 450 Class | | | |
| Date | Winner | Hometown | Machine |
| 8/27/16 | Ken Roczen | Germany | SUZ |
| 6/27/15 | Justin Barcia | Monroe, NY | YAM |
| 7/12/14 | Ryan Dungey | Belle Plaine, MN | KTM |
| 6/22/13 | Ryan Dungey | Belle Plaine, MN | KTM |
| 6/16/12 | Ryan Dungey | Belle Plaine, MN | KTM |
| 6/18/11 | Chad Reed | Australia | HON |
| 6/19/10 | Ryan Dungey | Belle Plaine, MN | SUZ |
| 8/22/09 | Chad Reed | Australia | SUZ |
| 7/13/08 | James Stewart | Haines City, FL | KAW |
| 6/17/07 | Ricky Carmichael | Havana, FL | SUZ |
| 6/18/06 | Ricky Carmichael | Havana, FL | SUZ |
| 6/19/05 | Ricky Carmichael | Havana, FL | SUZ |
| 6/20/04 | Ricky Carmichael | Havana, FL | HON |
| 6/15/03 | Ricky Carmichael | Havana, FL | HON |
| 6/16/02 | Ricky Carmichael | Havana, FL | HON |
| 6/17/01 | Ricky Carmichael | Havana, FL | KAW |
| 6/18/00 | Ricky Carmichael | Havana, FL | KAW |
| 6/20/99 | Kevin Windham | Baton Rouge, LA | HON |
| 6/21/98 | Doug Henry | Oxford, CT | YAM |
| 6/15/97 | Ezra Lusk | Bainbridge, GA | YAM |
| 6/16/96 | Jeremy McGrath | Menifee, CA | HON |
| 6/18/95 | Jeremy McGrath | Menifee, CA | HON |
| 5/22/94 | Mike LaRocco | South Bend, IN | KAW |
| | | | |
| --- | --- | --- | --- |
| 250 Class | | | |
| Date | Winner | Hometown | Machine |
| 8/27/16 | Zach Osborne | Abingdon, VA | HSQ |
| 6/27/15 | Marvin Musquin | France | KTM |
| 7/12/14 | Blake Baggett | Grand Terrace, CA | KAW |
| 6/22/13 | Blake Baggett | Grand Terrace, CA | KAW |
| 6/16/12 | Blake Baggett | Grand Terrace, CA | KAW |
| 6/18/11 | Tyla Rattray | South Africa | KAW |
| 6/19/10 | Dean Wilson | Scotland | KAW |
| 8/22/09 | Jake Weimer | Rupert, ID | KAW |
| 7/13/08 | Ryan Villopoto | Poulsbo, WA | KAW |
| 6/17/07 | Ryan Villopoto | Poulsbo, WA | KAW |
| 6/18/06 | Ryan Villopoto | Poulsbo, WA | KAW |
| 6/19/05 | Michael Brown | Johnson City, TN | HON |
| 6/20/04 | James Stewart | Haines City, FL | KAW |
| 6/15/03 | James Stewart | Haines City, FL | KAW |
| 6/16/02 | James Stewart | Haines City, FL | KAW |
| 6/17/01 | Michael Brown | Johnson City, TN | KAW |
| 6/18/00 | Stephane Roncada | France | YAM |
| 6/20/99 | Tallon Vohland | Citrus Heights, CA | HON |
| 6/21/98 | Ricky Carmichael | Havana, FL | KAW |
| 6/15/97 | Ricky Carmichael | Havana, FL | KAW |
| 6/16/96 | Steve Lamson | Pollock Pines, CA | HON |
| 6/18/95 | Steve Lamson | Pollock Pines, CA | HON |
| 5/22/94 | Steve Lamson | Pollock Pines, CA | HON |
| 10/4/92 | Jeff Emig | Kansas City, KS | YAM |
| 10/6/91 | Guy Cooper | Stillwater, OK | SUZ |
| 10/7/90 | Mike Kiedrowski | Canyon Country, CA | HON |
| 10/8/89 | Mike Kiedrowski | Canyon Country, CA | HON |
500cc Motocross
Date
Winner
Hometown
Machine
10/4/92
Jeff Stanton
Sherwood, MI
HON
10/6/91
Jean-Michel Bayle
France
HON
10/7/90
Jeff Stanton
Sherwood, MI
HON
10/8/89
Jean-Michel Bayle
France
HON