Est: 1983
Welcome to the Spring Creek National in Millville, MN. This legendary race marks Round 8 of the 2018 Lucas Oil Pro Motocross Championship, sanctioned by AMA Pro Racing.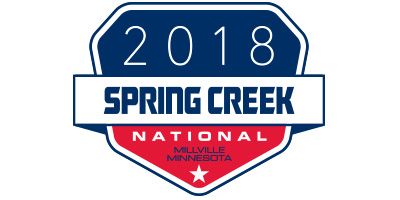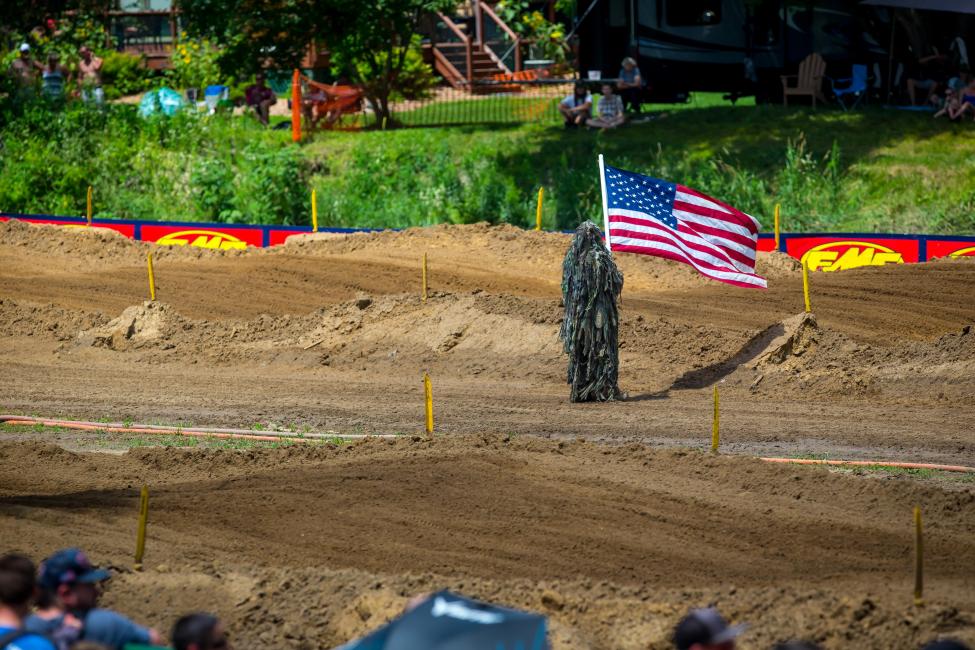 Track Profile
Located in the scenic and beautiful Mississippi River Valley along Spring Creek, Millville, Minnesota's Spring Creek Motocross has some of the richest soil on the circuit. The soil is actually great for farming, so it should come as no surprise that the facility used to be a working farm, but the early-spring floods resulting from the snow melting in the valleys made this parcel of land particularly difficult to cultivate. So in 1967, a man named Grant Marquardt pursued his interest in motorcycles by founding a hillclimb event here.
Marquardt enjoyed the privilege of operating Spring Creek for eight years until he retired and sold the facility to Perry Hendricks. One of Hendricks' first accomplishments as new owner and operator was adding the motocross track in 1976.
With Hendicks at the helm, the track grew in popularity, and in 1982 he was able to obtain a round of the now-defunct Trans-AMA Series. The following year, he secured Spring Creek's position as an AMA Pro Motocross Championship track. To add to the growth, the site hosted an AMA National Hare Scrambles throughout much of the 1980s.
In 1987, Spring Creek Motocross found itself with new owners, John and Greta Martin. The Martins committed their lives to transforming the park into the race facility we know it to be today. John, a factory off-road racer (and 1985 AMA National Hare Scrambles Champion), retired from his own racing career, while Greta took leave from her beloved teaching position to work full-time on the facility.
The improvements they have made include a three-story starting tower with viewing platform, a three-story building equipped with registration, concessions, commons area, two levels of VIP suites, a four-story announcing tower with spectator deck, an enclosed two-story finish-line tower, advanced flagger structures, increased spectator viewing areas, two sets of temperature-controlled, flushing restroom stations, and much more. Spring Creek MX Park is now one of the premier facilities on the circuit, and it still has that amazing soil the riders love so much.
Amenities
Free Motocrycle Parking and Gear/Helmet Check
Live Music Friday and Saturday Night including Arch Allies (Journey/REO Speedwagon and Styx Tribute Band)
Open Air Festival Seating
Air Conditioned VIP Suites with live PA feed, live timing and scoring, live race footage, private restrooms, and catering
Air-conditioned Food and Drink Concession area with live video feed of racing
Large interactive Sponsor Village
Flushing Air Conditioned Restroom facilities
Onsite Camping
Potable water for Camper filling
Playground area with swing set, volleyball, four-square, basketball court, volleyball, and badminton
Trout Fishing
Swimming
Grandstand Seating
(Covered) Super Ticket Viewing Area
Open Air Corporate Suites
Shaded Picnic Areas
Nearly 100% track Viewing from a variety of hillside vantage points
Infield & Hillside Track Viewing via 6 Track Tunnels and a Spectator Ridge
State-of-the-art sound system
Event Simulcast on FM Radio - 107.9
Beer Concessions
Free Parking
Onsite Parking
Handicap Parking
Easy entry/Exit
Permanent Restroom facilities
Reserved RV spots with hook-ups - Limited Number
RV septic pump service
Outdoor Shower onsite
DJ on Wednesday & Thursday Nights and Live Music on Friday & Saturday Nights
General Information
Gate A: General Admission, Tickets, and Camping
Gate B: VIP, Vendors, Will Call, Staff, Medical, and Press
Gate D: Pro Pits, Pro Rental cars, Pro Motor homes & Buses
Travel Station and Camper Services: Click here
Pets must be leashed and stay on campground side of creek.
Rentals car parking (Pros ONLY) is at Gate D
Pro Pit curfew is midnight (Pros ONLY)
Rental cars are not allowed in pits
No campfires, but grills allowed
No alcohol allowed - Beer Gardens on-site
Spring Creek National Winners
| | | | |
| --- | --- | --- | --- |
| 450 Class | | | |
| Date | Winner | Hometown | Machine |
| 7/22/17 | Marvin Musquin | France | KTM |
| 7/16/16 | Ken Roczen | Germany | SUZ |
| 7/18/15 | Ryan Dungey | Belle Plaine, MN | KTM |
| 7/19/14 | Eli Tomac | Cortez, CO | HON |
| 7/27/13 | James Stewart | Haines City, FL | SUZ |
| 7/14/12 | Ryan Dungey | Belle Plaine, MN | KTM |
| 7/16/11 | Ryan Dungey | Belle Plaine, MN | SUZ |
| 7/17/10 | Ryan Dungey | Belle Plaine, MN | SUZ |
| 7/18/09 | Chad Reed | Australia | SUZ |
| 8/17/08 | James Stewart | Haines City, FL | KAW |
| 8/12/07 | Ricky Carmichael | Havana, FL | SUZ |
| 8/13/06 | Ricky Carmichael | Havana, FL | SUZ |
| 8/14/05 | Ricky Carmichael | Havana, FL | SUZ |
| 8/15/04 | Ricky Carmichael | Havana, FL | HON |
| 8/17/03 | Ricky Carmichael | Havana, FL | HON |
| 8/18/02 | Ricky Carmichael | Havana, FL | HON |
| 8/19/01 | Ricky Carmichael | Havana, FL | KAW |
| 8/13/00 | Ricky Carmichael | Havana, FL | KAW |
| 8/15/99 | Greg Albertyn | South Africa | SUZ |
| 8/16/98 | Jeff Emig | Kansas City, KS | KAW |
| 8/3/97 | Jeff Emig | Kansas City, KS | KAW |
| 8/4/96 | Jeff Emig | Kansas City, KS | KAW |
| 7/30/95 | Mike Kiedrowski | Canyon Country, CA | KAW |
| 8/7/94 | John Dowd | Chicopee, MA | YAM |
| 8/11/85 | Bob Hannah | Whittier, CA | HON |
| 8/5/84 | Ron Lechien | El Cajon, CA | HON |
| 8/28/83 | Bob Hannah | Whittier, CA | HON |
| | | | |
| --- | --- | --- | --- |
| 250 Class | | | |
| Date | Winner | Hometown | Machine |
| 7/22/17 | Joey Savatgy | Panorama City, CA | KAW |
| 7/16/16 | Jeremy Martin | Millville, MN | YAM |
| 7/18/15 | Cooper Webb | Morehead City, NC | YAM |
| 7/19/14 | Jeremy Martin | Millville, MN | YAM |
| 7/27/13 | Eli Tomac | Cortez, CO | HON |
| 7/14/12 | Eli Tomac | Cortez, CO | HON |
| 7/16/11 | Tyla Rattray | South Africa | KAW |
| 7/17/10 | Trey Canard | Shawnee, OK | HON |
| 7/18/09 | Ryan Dungey | Belle Plaine, MN | SUZ |
| 8/17/08 | Ryan Dungey | Belle Plaine, MN | SUZ |
| 8/12/07 | Ryan Villopoto | Poulsbo, WA | KAW |
| 8/13/06 | Broc Hepler | Kittanning, PA | SUZ |
| 8/14/05 | Andrew Short | Colorado Springs, CO | HON |
| 8/15/04 | James Stewart | Haines City, FL | KAW |
| 8/17/03 | James Stewart | Haines City, FL | KAW |
| 8/18/02 | James Stewart | Haines City, FL | KAW |
| 8/19/01 | Grant Langston | South Africa | KTM |
| 8/13/00 | Travis Pastrana | Annapolis, MD | SUZ |
| 8/15/99 | Nicholas Wey | Dewitt, MI | KAW |
| 8/16/98 | Ricky Carmichael | Havana, FL | KAW |
| 8/3/97 | Ricky Carmichael | Havana, FL | KAW |
| 8/4/96 | Steve Lamson | Pollock Pines, CA | HON |
| 7/30/95 | Robbie Reynard | Moore, OK | KAW |
| 8/7/94 | Steve Lamson | Pollock Pines, CA | HON |
| 8/15/93 | Jeff Emig | Kansas City, KS | YAM |
| 8/16/92 | Mike LaRocco | South Bend, IN | KAW |
| 8/11/91 | Mike LaRocco | South Bend, IN | KAW |
| 8/19/90 | Mike LaRocco | South Bend, IN | SUZ |
| 8/20/89 | Damon Bradshaw | Mooresville, NC | YAM |
| 8/14/88 | Donny Schmit | Bloomington, MN | SUZ |
| 8/23/87 | Donny Schmit | Bloomington , MN | SUZ |
| 8/10/86 | Micky Dymond | Yorba Linda, CA | HON |
| 8/11/85 | Ron Lechien | El Cajon, CA | HON |
| 8/5/84 | Jeff Ward | San Juan Capistrano, CA | KAW |
| 8/28/83 | Ron Lechien | El Cajon, CA | YAM |
| | | | |
| --- | --- | --- | --- |
| 500cc Motocross | | | |
| Date | Winner | Hometown | Machine |
| 8/15/93 | Jeff Stanton | Sherwood, MI | HON |
| 8/16/92 | Jeff Stanton | Sherwood, MI | HON |
| 8/11/91 | Jean-Michel Bayle | France | HON |
| 8/19/90 | Jeff Stanton | Sherwood, MI | HON |
| 8/20/89 | Jeff Ward | San Juan Capistrano, CA | KAW |
| 8/14/88 | Rick Johnson | El Cajon, CA | HON |
| 8/23/87 | Rick Johnson | El Cajon, CA | HON |
| 8/10/86 | Rick Johnson | El Cajon, CA | HON |
| 8/11/85 | David Bailey | Axton, VA | HON |
| 8/5/84 | David Bailey | Axton, VA | HON |
| 8/28/83 | Danny Chandler | Foresthill, CA | HON |